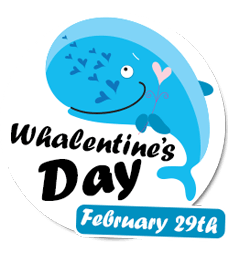 Get R2900 Free Whalentine's Day Bonus
Leap Year ahead and we decided to not only celebrate Valentine's Day in February but also Whalentine's Day on February 29th.
We will celebrate more than huge! We love whales and we can not imagine a world without them. As we know, lot's of them are endangered and nowadays being whale is not easy anymore.
We give away R2900 on February 29th for everybody who made one single deposit of R500 or more!
How to get R2900 on Whalentins' Day
All you have to do is make one deposit between February 1st and February 29th of at least R500 and you can redeem coupon code "WHALENTINE" on February 29th. That's it.
Please Note: The Coupon Code "WHALENTINE" is valid from February 29th to March 2nd. Terms & Conditions apply. The maximum payout is a massive R2500! On single deposit between February 1st and February 29th of R500 or more is required to qualify for this bonus.