Cell C Sharks team up with Black Panther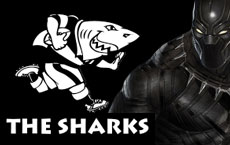 With the slogan "Black and White. Nothing Else Matters.", the Sharks fit perfectly into the image of the Wakandan hero. Carrying the legacy of the Black Panther warriors, everyone from Lukhanyo Am and Keegan Daniel to Thomas du Toit and Robert du Preez will be wearing exclusive jerseys inspired by King T'Challa, hoping to evoke his near-superhuman strength and agility.
The new Black Panther-inspired Sharks' jerseys probably won't have retractable claws, nor will they be made of vibranium weave, but they will be awesome.