Animal Friendships
November is Unusual Friendship Month
November is all about unusual, but heart-warming animal friendships that sometimes occur in unusual circumstances in Africa. Sadly mother animals sometimes abandon their young or are poached leaving their children behind to fend for themselves.
With a bit of luck the orphan will be found by an animal rescue organisation and taken in. Many baby elephants, rhinos or other animals thus grow up in completely different circumstances than in the wild and as a result the most unusual friendships can occur. Baby elephants make friends with baby giraffes, baby rhinos with goats and so on and so on …
Here are some heart-warming stories about such friendships and the rescue organisations and parks who are doing such a great job to take care of Africa's animals.
Details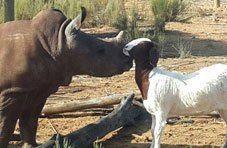 A baby rhino entered the world in the early hours of New Year's Eve 2015 and was immediately faced by rejection. Having been abandoned by his mother, the dehydrated baby was in desperate need of nourishment. Osita was weighing only 65 kilograms and his life was literary in the hands of animal welfare staff at Aquila Private Game Reserve.
Having had its first meal from a bottle containing foal milk formula, Osita's struggle to survive was just beginning. Soon he has able to venture out for his first walk into the wilds and enjoy his first mud bath.
A couple of months later, playful baby rhino got to meet his first animal friend, a young female goat Bokkie. Nervous at first, they soon became the best of buddies. Bokkie is teaching Osita how to graze and do all the other things he cannot learn from his human companions. And like a true friend, teases him occasionally. When Osita goes to sleep,  Bokkie will climb all over him and make herself comfortable on top of his head.
Osita is now a healthy 530+ kg boy and grazing on his own, but the battle is far from over. The goal is to reintroduce him into the wild with the other rhinos. Chances are good as little rhino now gets loads of love and support and, after all, his name in Nigerian means 'from today onwards it will be better'. With the help of dedicated and committed staff of the Aquila Private Game Reserve, we are confident that it will.

Details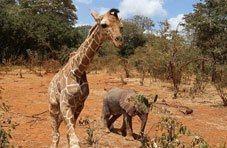 Humans can really learn a lot from their animal companions. While we often struggle to overcome our differences, numerous stories testify to animals befriending each other despite belonging to different species and having completely different physical appearance and habits.
One of such heartwarming stories features two four-legged babies, young giraffe Kiko and little elephant Loboito. They were both rescued from the wilds after having been abandoned soon after they were born. If left to themselves, neither would have survived. No mums to feed them milk, they were also in danger of poachers who have already managed to decrease the number of their brothers and sisters with an alarming efficacy.
Luckily, Kiko and Loboito are now in the good hands of the David Sheldrick Wildlife Trust caretakers. Receiving specialist care 24 hours a day, Kiko and Loboito are given a chance to grow up safely and eventually return to the wild. In the meantime, they enjoy each other's company immensely. Loboito has got very attached to his tall companion and follows Kiko around wherever he goes.
David Sheldrick Wildlife Trust was founded in 1977 by Dr. Dame Daphne Sheldrick in honour of the memory of her late husband. With the help of its dedicated team members, the Trust has hand-raised over 150 infant elephants and has successfully reintegrated the orphans back into the wild.

Details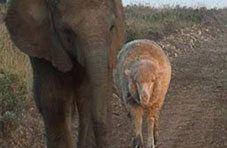 Themba was only six months when his mother fell off a cliff and died. The little orphan was in danger of starving to death before being rescued by the team from Shamwari Wildlife Rehabilitation Centre.
At the Centre, baby elephant got to meet his first animal friend, though not of the same species. While Themba was clearly super-happy to meet sheep Albert, their first encounter almost gave the sheep a heart attack. But it didn't take long for them to bond and become inseparable.
The two friends now chase each other around, explore the surroundings together and take naps side-by-side. Albert now copies everything Themba does which sometimes results in a behaviour typical for elephants but not at all for sheep. Watching them play and befriend other baby animals, while treating each other as best buddies in the world, is a truly heartwarming experience.
Shamwari Wildlife Rehabilitation Centre employs a committed team of people sharing the same passion. They help rescue, rehabilitate and care for sick, injured, abandoned or orphaned animals before they are released back into their natural habitat.d.

Details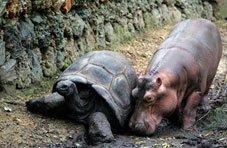 Baby hippo Owen lost his family when a tsunami hit the beach, leaving him stranded on the reef. He was rescued by local people who named him Owen, after one of the rescuers. Haller Park in Mombasa became his new home and, while lovingly looked after by a team of caretakers, little hippo felt confused and lonely.
As there were no other hippos to play with, he tried to befriend a 130 years old tortoise by the name of Mzee and started following him around. Whether Mzee liked this or not, he could do nothing about it as he was too slow to lose baby hippo.
However, Owen's personality quickly won him over and it wasn't long before Mzee started to appreciate the company. In no time they were doing everything together, sharing their meals, enjoying their baths and sleeping next to one another. They even developed their own way of communicating to each other! The two friends were inseparable for the next two years, until they went their separate ways.
Haller Park rescue centre is home to a variety of plant and animal species, providing a wildlife sanctuary to hippos, buffaloes and a congregation of water birds. The rescue centre was the first recipient of the UN Environmental Program Global 500 Roll of Honour award for the unique, ecologically sound and successful rehabilitation undertaken.

Details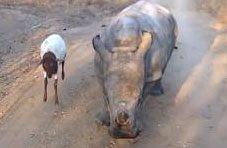 The sight of dehorned rhinos is unfortunately not uncommon in South Africa, especially since the rhino-poaching wave in 2008 has put the survival of the species at risk. Many baby rhinos are left orphaned in this way, as was three-month-old Gertjie, found at the side of his mother killed by the poachers for her horns.
Traumatised little rhino was taken into the care of the Hoedspruit Endangered Species Centre in Pretoria. It was there that he met an unlikely friend, goat Lammie. The two now spend all of their days together and tend to copy each other's behaviour.
Watching his friend bounce around, Gertjie tries to imitate Lammie's movements and hop like a goat. It's truly endearing to watch these two friends interact, having found what we all strive to achieve: a strong bond with someone who cares for you.
The Hoedspruit Endangered Species Centre is an African wildlife facility working on conservation of rare, vulnerable and threatened species. The Centre has launched Rescued Rhinos @ HESC project, aiming to assist in the rehabilitation and reintroduction of orphaned and injured rhinos to the wild.

Details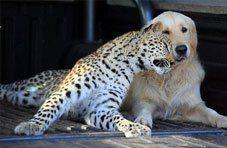 Salati was rescued as an orphaned leopard cub and donated to the Glen Afric Country Lodge near Pretoria, a family-run retreat which helps injured and abandoned animals. When she met Tommy, the family dog, ten-month old Salati was still a tiny kitten. They quickly became friends who explored the countryside together and Tommy playfully chasing Salati was the usual  sight.
Not so anymore, since the little leopard girl is now twice as heavy as her golden retriever friend. When Glen Afric owner takes them out for a walk, Tommy probably feels a bit confused while he's being chased by a giant cat. There's lot of love shared between the two, however, and Tommy and Salati can often be seen snuggling up to each other after a good run out in the open.
Glen Afric is home to a range of adopted wild animals which were either rescued or bought from film and TV companies to prevent them being sold illegally after their acting days were over. Since they are captive animals used to human contact, they can't be released into the wild and will spend the rest of their lives on the farm. Having their best friends to keep them company, it's bound to be an enjoyable stay.

Details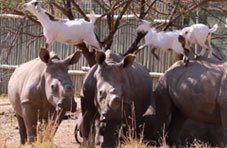 Care for Wild Sanctuary in Mpumalanga is home to an unusual site: cheeky goats playing around massive rhinos and using their bodies as an adrenalin park fixtures or as a stepping stone to otherwise hard to reach branches.
The little acrobats skilfully land on their feet when rhinos get tired of little buggers jumping on their backs and decide to change position. Nobody seems to mind, though, and very quickly the game continues. Once again the animal world demonstrates the kind of tolerance we rarely see in our own environments.
Care for Wild Rhino Sanctuary is a care centre which tends for animals until they can be rehabilitated back into the wild. Animals who have suffered permanent injuries making it impossible for them to survive in nature, are permanently housed.
They are being looked after by a dedicated Sanctuary team members committed to the preservation of South Africa's wildlife, with the help of vets and volunteers.

Details
Ellie, a baby elephant, has had it rough from the start. She was rejected by her herd and left alone in poor health and milk-intolerant. When found, Ellie was taken to Thula Thula Rhino Orphanage in South Africa, though her rescuers had little hope she would survive.
And if it wasn't for Duma, the German shepherd who also resided in the same orphanage, chances are she wouldn't have. Duma probably sensed how sad and depressed Ellie felt and did what he could to cheer her up. Having found a friend who was there and cared for her, she started to recover. Even though elephant herds play an important role in development of newborns, Ellie's new friend provided the support and motivation she was missing. The two of them are now inseparable and have formed what promises to be a life-long relationship. 
Thula Thula is dedicated to conservation, protection and survival of endangered species. This wildlife sanctuary is run by the world renowned Lawrence Anthony Earth Organization and managed by a team of passionate and dedicated individuals. Its Zulu name means peace and tranquility and it seems this is what the abandoned baby elephant managed to find, with a little help from her four-legged friend.