Baby Goat Joey Befriended by Orphaned Rhino J'aime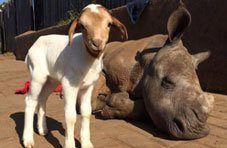 Do you remember the story we recently shared about J'aime, the baby rhino which has suffered a traumatic encounter with poachers? Having been wounded while trying to protect her mom with her tiny body, the 4-week-old rhino girl has fortunately managed to stay alive, though remaining an orphan.
Saved by the good people of The Rhino Orphanage (TRO), she was given a new home and a surrogate family. While J'aime is waiting to celebrate her third birthday and get released back into the wild, she has made another unlikely friend.
J'aime Welcomes Joey into the Family
Joey is a very recent addition to TRO family. While he didn't lose his mom in the same brutal way J'aime did, the baby goat has suffered rejection from his parent only days after he was born and had to be brought to the orphanage to be raised by humans. Sheep and goats are frequently used as companion animals, and the two orphans have likely recognised that they shared same sad fortune. J'aime, which means "I love" in French, clearly has a lot of love to give. A good thing, too, as Joey could surely use some love and affection after having been abandoned by his mother. And J'aime herself will not be lonely while still too young to go join other rhinos in the orphanage. The two didn't take long to bond and start enjoying daily walks together, and can also be seen taking well-deserved rests side by side.
Baby Rhinos in Good Hands of TRO
The Rhino Orphanage has been providing specialised care to baby rhinos since 2012. Situated in South Africa's Limpopo Province, their staff looks after orphaned and injured animals until they're well enough to be released back into the wild. Even if their mission is to help rhinos, clearly animals of different species can equally count on being helped by this dedicated group of people. We're sure J'aime and Joey will receive top care until they are strong enough to return to where they truly belong, each remembering an unlikely but good friend who was there in times of need.