Is Learning a New Language as Easy as Playing at an Online Casino?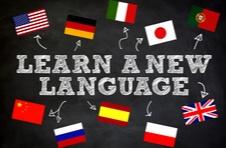 Just as South Africa has its very own online casino, Springbok Casino, we also have a very unique culture and diverse population.  Most, if not almost all South Africans, can speak at least two languages fluently.  Why is this?  Well, part of our uniqueness includes the fact that we have eleven official languages!
South Africa's 11 Official Languages & Why We Offer English Customer Support
Although English is used as the primary language in business and in parliamentary and state discourse, all eleven languages in South Africa have equal legal status.  It just so happens that English is the most understood, or shall we say, the 'go to' for conversing in a public setting, outside of our own homes.
Since we know these stats, we have opted to offer our online casino support services in English to ensure that our players are able to communicate effectively with our support team, and vice versa.  This does not mean that we don't have a deep appreciation for all our official languages!  Here is the full list, in no particular order:
English
Afrikaans
Xhosa
Zulu
Venda
Southern Sotho
Tswana
Norther Sotho
Tsonga
Swati
Ndebele
A very important note – these are only the 'official' languages of South Africa…  In addition to this list, there are unofficial and marginalised languages, some of which include South Africa's oldest languages.  The unofficial list includes an additional 25 and more languages!
Now, to get back to what this article is about – is learning a new language as easy as playing at an online casino…?
Learning a New Language from Scratch
With so many languages being legally recognised in one country, South Africans are known to be bilingual or even multilingual.  You could be raised Afrikaans, Xhosa, Zulu or Tswana at home – but you naturally end up learning one of the other languages, such as English, either at school, or through general interaction and exposure.
Many research originations cite that babies and very young children form neural connections at a rapid pace, so it is much easier for them to learn and absorb a language.  Even adolescents, up to the age of 18, have an easier time acquiring new language skills.  After this, there is a precipitous decline – but the reason may not be what you think.
The human brain – whether you're a baby, teen or adult – remains malleable, and new neuropathways are always ready to be formed, albeit at a slightly slower pace the older you get.  So why is it harder for adults to learn a new language – but we can learn how to play online casino games in a jiff?
Time is Not on Our Side… but Our Brain Is!
It all has to do with time… and the lack thereof, to be more precise.  According to Scientific America, "At 18, kids typically graduate high school and go on to start college or enter the work force full-time.  Once they do, they may no longer have the time, opportunity or learning environment to study a second language like they did when they were younger."
So according to science, learning a new language as an adult has very little to do with the brain's ability, but more with the availability of time.  Here's a thought…  If you have time to play at our awesome online casino, surely you can make some time to learn a new language?  It can only stand to benefit you, and here is why…
The Benefits of Being Bilingual or Multilingual
Overall, scientists are continuously studying second language acquisition, and the impact thereof.  In kids, it is believed being bi- or multilingual increases creativity and problem-solving skills.  They also learn any other subject or topic faster and easier.  This could be due to additional neuropathways, and almost – in laymen's terms – 'expanded brain capacity'.
As an adult, you'll have the same benefits of increased creativity and problem-solving skills, and additionally, more career opportunities.  Learning any new skill, whether it is how to play blackjack strategically at Springbok online casino, or mastering a new language will also, so to say, 'expand your mind'.
It can furthermore reduce your chance of experiencing age-related mental challenges that can lead to dementia, such as Alzheimer's disease.  If you want to keep your mind in tip-top shape, you need to exercise your brain – and besides playing at our online casino, what better way to do it than to learn a new language?
How Can You Learn a New Language 'Easily'?
'Easily' is purposefully in inverted commas, as it will take a bit of time, effort, consistency and dedication on your part.  Fortunately, we live in a day and age where resources to learn new languages are plentiful – and very often, free… and fun!
Just as with our free play online casino that allows you to enjoy Springbok Casino games on the house, there are language learning apps that do the same.  Some apps are completely free, others are free but you'll need to upgrade to the paid version to remove pesky ads.  Then there also are apps offering free trials to their paid version.
The free trial apps effectively equate to our smashing R250 Free Bonus that is there for you to test Springbok Casino – and guess what, it is ad-free!  Once you're happy with what you see, you can go on and start redeeming our 3-part R11,500 deposit bonus.
Best Language Learning Apps for Desktop & Mobile
Here is a brief list of some of the best language apps currently available on iOS, Android, Windows and Mac:
Duolingo – Free with Ads, Upgrade to Pro to remove ads (trial available)
HelloTalk – Free with Ads, Upgrade to VIP to remove ads (trial and lifetime membership available)
Memrise – Free with Ads, Upgrade to Pro to remove ads and access more content (trial and lifetime membership available)
Rosetta Stone – 3 Day Free Trial (lifetime membership available)
These are just a few of many excellent language learning apps available.  As with our online casino, you can access these apps on desktop or mobile – with the desktop versions often offering more than the mobile companion.
Do Language Learning Apps Really Work?
We've read the personal reviews of learners who have worked through a full language course on apps such as Duolingo – and the answer to the question 'do they really work?' is an irrefutable yes!  Apps such as Duolingo also make it fun… and it feels more like a game than anything else.  There are leagues, leader boards and incentives to motivate you to keep learning.
Join the millions of people who are learning a new language every day and begin your journey to become bilingual, or even multilingual.  If you set aside just 5 or 10 minutes a day to learn a new language, you'll keep your brain healthy – and expand your horizons!  The best part?  You'll still have plenty of time to head over to Springbok for online casino to play games with real money returns!