Sensory Cues in Online Slots Real Money South Africa Games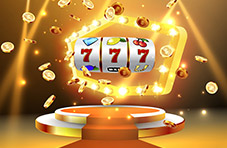 Where do you find the best online slots real money South Africa titles? At Springbok Casino, of course. Part of the attraction of our flagship casino games is their wraparound entertainment value. In that respect, creative design elements are key – and this includes audio, animation and graphics!
Special Effects for Enchanting Gaming Online
What are the core features to look for in great online slots real money South Africa games? Factors like the paytable, bonus levels and payout rate are tipped as the top 'best slots' indicators. Oddly enough, it is the analysts and theorists who categorise 'win capabilities' as the only definition of superior gaming online.
Patrons have a very different take. In the world where the 'consumer' is king, it is the all-round gambling experience that is the unique selling point. What makes online slots immersive and engaging? It is not the published payouts, nor is it the fact that there are potentially free spins or multipliers in the action.
The most significant drawcards are the side shows. By that we mean the dazzling 3D graphics, explosive animations and dopamine pumping soundtracks that attract and retain players. Without all the theatrics, online slots real money South Africa games would be repetitive and boring.
Character Animations Define Top Online Slots Real Money South Africa
In the thematic-driven multiline slots featured at Springbok Casino, character symbols define the theme. Whether it is the:
cartoon-style count in Count Spectacular slot,
the witch in Witch's Brew online slot, or
the mad scientist and his one-eyed gizmos in Dr Winmore slot,
the animations tell us more about the character. They provide an entertaining visualisation of who they are – and make them all the more lovable.
Character animations are important because they set the scene. They represent central figures in literature, history, cinema and mythology and they essentially bring our online slots real money South Africa titles to life.
Imagine Ancient Gods slot without an animated expanding fire breathing wild dragon? It just wouldn't have the same cachet. The Bubble Bubble online slots trilogy would be all the poorer without the divinely animated Willow, Wanda and Winni… and so on it goes.
Animations Power-Up the Payout Experience
Animated characters and symbols are engaging. They provide a cinematic touch to proceedings which would otherwise be limited to game mechanics and gameplay. Besides character animations, the announcement of big wins on the reels are typically as flamboyant and exciting.
In the most entertaining online slots real money South Africa titles, animated gold coins explode from the gaming interface. Dollar signs flit across the screen. Big, Super or Mega Win in giant text, together with the actual value of the prize, is plastered across the game board.
Taken together, the animations and graphics create an adrenalin rush. The heart beats faster, the pupils dilate and the feel-good chemical, dopamine floods the brain. Add evocative audio to the mix and suddenly online slot real money South Africa have a life of their own – and it is breath taking in intensity!
The Evocative Input of Soundtracks in Online Slots
Why are sounds and music integrated into online slots? As you are no doubt aware, music is deeply embedded in our human consciousness. Audio heightens the arousal levels… whether it is the jingle jangle of coins or the music loop unique to the free spins features or bonus rounds.
Interestingly enough, game developers have taken a methodical approach to soundtrack design. They use a specific music key, which is associated with positive emotions – and then build cords around it.
According to researchers, each key has a psychological effect on listeners. Most of the major keys are overwhelmingly affirmative.
C Major, for instance, is linked to innocent happiness, imagination and pure delight.
D Major is more triumphant in tone. It speaks of the joy that is attained from conquering challenges or obstacles.
E Major is loud, boisterous and evokes feelings of enchantment, elation and ecstasy.
B♭ Major is jaunty, cheerful and associated with optimism.
The audio built in to online slots real money South Africa is not accidental. It is purposefully added to gameplay to enhance the gaming experience. The faster the music, the quicker our decision-making, and the more likely we are to take risks.
Soundtracks are the driving force behind the excitement and arousal of real money gaming! So too are flashing lights… In fact, studies have shown that bright lights intensify emotions.
Visual Cues Provide Added Drama
Together with sounds like falling coins and ringing bells, and animated payline wins that pop from the screen, lights are vital sensory cues. When packaged together and inserted into the best online slots real money South Africa games, these cues encourage us to extend our gaming sessions at Springbok Casino.
In reality, it is the extravagant design elements in online slots that are integral to their awesome popularity. Without injections of colour, innovation and flamboyance, slots would simply be another conventional online casino game like blackjack, baccarat or roulette.
The artistic wizardry of game developers and the massive advances in technology have revolutionised the genre. Now days, the best real money online slots in South Africa have more than their fair share of drama added into the equation. That of course is a good thing – for both players and gaming platforms like Springbok Casino.
Login to Springbok Casino and Play RTG Online Slots… NOW!
When you roll up and play online slots at Springbok Casino, it really is as good as it gets. That is until the next cutting-edge development heightens the experience yet again.
Here are a few games to get you started:
Aladdin's Wishes and Paydirt slots for classic slot machine sounds.
Voodoo Magic for an authentic soundtrack, great graphics and an eerily animated mambo or voodoo priestess.
Eternal Love slot for an extraordinary all round thematic.
Why not sign up, login to Springbok Casino and see what all the fuss is about? You will find the auditory and visual effects integrated into RTG online slots real money South Africa are right up there with the best!