Online vs Land-based Casinos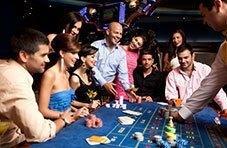 Until the mid 1990's, players didn't have much of choice if they wanted to indulge in their favourite gambling activity; they'd need to sit in a car, or exploit another kind of transport option, and take themselves to a brick-and-mortar casino. Today, however, all one needs in order to play a casino game is a desktop computer or mobile device. Having a bigger choice is always good, and both of the mentioned options come with advantages and disadvantages.
Let's have a look at some of them. 
Convenience
When it comes convenience, online casinos have an upper hand. You can visit them from the comfort of your own home, without having to worry about appearances. There is no dress code you need to follow nor a behaviour you're supposed to exhibit; you can feel at home because, basically, you are at home. This also means there are no additional costs on top of what you actually invest into playing the games. Going to a land-based casino will always come with a cost of transport, and if it's not close to where you live, you'll also need to pay for meals and accommodation. Online casinos don't have limited working hours, they operate 24/7, 365 days a year. Mobile gaming has taken accessibility of gaming services even further and allows you to play literary whenever and wherever you want.
While some players love the buzz in a brick-and-mortar gaming venue, others find it to be distracting. Chatty fellow gamers and dealers, the sound of slot machines and coins bringing joy to lucky winners, cocktail waitresses cruising the floor  – these can either add to your gaming experience, or make it difficult to focus on what you came in for in the first place. 
The Games
Selection of games is inevitable much bigger when playing online. This is certainly true when it comes to slots, but is also the case for table games such as poker, blackjack and roulette. Space is virtually unlimited, and there's no fixed cost of people hosting the tables or looking after the machines. It's literary impossible to find your slot game to be occupied and therefore inaccessible, and you're extremely flexible in terms of options such as number of paylines and bet sizes. Table games additionally offer a unique ability to play multiple hands, or even more than one table at the same time – again something which you can't do when sitting in a land-based casino.
One of the greatest benefits of playing casino games online is the opportunity to play for free. Whether you're into slots, video poker or roulette, you'll get to practice completely risk-free until ready to stake some real cash. What you can do in order to learn in a land-based casino is position yourself next to a table and watch the others play. This is a good opportunity to see what works and what doesn't, and pick up some useful tricks for when you decide to take a seat yourself.
Being more flexible, online casinos can offer a wide range of bets for any of the game types, which is something their brick-and-mortar counterparts simply can't compete on, mainly because of space restrictions. As such restrictions basically don't exist in a virtual world, there is no maximum number of players an online gaming venue can accommodate and that is certainly a big plus. When in a brick-and-mortar location, sometimes you'll find that your favourite table is fully booked and you'll have to wait for a seat to become available. Having travelled to get there, this could cause frustration and build tension. Waiting lines are less likely to happen when playing online, and if they do, you've got alternatives to choose from: either join a table which can accommodate infinite number of players, or hop to another casino in less than a minute.  
Payout Percentages
Generally, online slots have higher payout percentages than land-based games, simply because online casinos don't need to finance high overhead and can afford to pass on more of the winnings to you. Information on game RTPs is also much easier to find for online games. They'll often be provided by developers and operators themselves, plus there is a number of independent organisations which evaluate the real payout percentage of a slot over millions of spins. 
Extras
Both land-based and online casino offer benefits and rewards to their players, though there's more goodies to pick up in the virtual gaming environment. As the competition is much bigger online, operators tend to provide more and better promotions in an effort to attract and keep the players. Sometimes you'll even get to start playing with free money thanks to no-deposit bonuses offered to new members. While free cash and free spins are widely available online, land-based casino can also provide other kind of treats, such as free accommodation, free drinks and meals, show tickets and so on. 
Gaming Experience
Unless you find the sights and sounds of a physical casino to be overwhelming or distracting, land-based venues will provide you with a gaming experience not easily replicated online. Atmosphere is one element which is not so easy to copy in the virtual world (for now), and social aspect of gaming is another. So if you're out to have fun and socialise with fellow gamers, it's likely you'll have much better time going to a land-based location. If, on the other hand, you want to focus on the game and earn some cash, you'll probably be better off doing your gaming online.