How to Choose an Online Casino
Details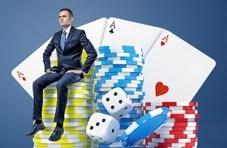 Few things in the world are one size fits all.  This is true of online casinos as well as so many other things we use.  That means that when we look for an online casino, there are things we should look for.  If they aren't present, we might best look elsewhere.  Given that there are thousands of online casinos, we ought to expect to find that many don't meet our standards and many do.  It's actually quite easy to find a good online casino if we are looking carefully.
Since you are reading this article at Springbok Online Casino, we can faithfully infer that you are either a happy gamer at our casino or are truly interested in joining us.  We are confident that as you delve further into what we have to offer you will become happy Springbok gamers.
Absolute Safety and Privacy
In order to play at an online casino, you must send money through what we amusingly call cyberspace from one account to your casino account.  If we can stay with the outer space metaphor a bit longer, we might say that cyberspace is full of asteroids, meteors, and other foreign bodies.  In terms of our money, we need a casino that is so strong that no hacker could penetrate its "walls".
We read often about large companies that have been hacked.  Most recently Facebook itself was hacked.  The central office of the American Democratic Party was hacked during the election that saw Hillary Clinton lose in a shocking result to Donald Trump who had never held elected office before.  One reason Hillary Clinton lost may have been that the office of her political party was hacked.
In such a world, it is truly amazing that we have not heard about an online casino that was hacked.
Privacy is basically the other side of the coin of security.  When you join an online casino, you must give it some personal information.  The casino is obligated or should feel itself obligated to protect your privacy in equal measure to how strongly it protects your money.
Encryption Software
This software "scrambles" information so that hackers cannot read the information.  It is like the grand codes of the World Wars except that those codes proved much easier to crack than the encryption modern online casinos now use.  It is also important to be sure that the casino follows your money from the moment it leaves your bank account, ewallet account, or other account.  Similarly, it is important that the casino follow your money from the moment you withdraw it to the moment it enters the next account.
Customer Service
Here is a litmus test for online casinos.  Not only in terms of your money and your casino accounts but in all other areas of online casino gaming, the quality of the customer service the casino offers should be a very big element in your choice of casino.
In terms of your money, we encourage everyone to go to our customer service office.   Our representatives ought to be able to answer all questions regarding your account and the safety of your money in addition to being able to answer any question you might have at all.
Testing the customer service office at any online casino is a great way to evaluate the casino.
Regulation
Every reputable casino including Springbok Casino wants to be regulated by a recognized outside and independent body.  No casino wants there to be any hint, however small, that any aspect of the casino operation is less than satisfactory.
Regulation includes regular, unannounced inspection of the casino's banking practices, its average return to player rates, and other parameters. Banking involves deposit and withdrawal methods.  It also refers to withdrawal practices specifically.
There are two reasons that many casinos have strict withdrawal practices.  One is that the casino wants to be absolutely sure that the person requesting the money on withdrawal is the same person that deserves to receive it.  Requiring customers send in a copy of a bill paid or some other powerful identifying document is simply another layer of safety the casino places upon itself to make sure that all withdrawals go to their rightful owner.
The second reason casinos make withdrawals difficult is because they simply want to hold onto the money a bit longer. 
Regulators and inspectors look at the casino's withdrawal practices to see if the rules they impose for withdrawals are fair to the customers.
Bonuses
This could be an article in itself.  Here we will speak a bit about how a casino keeps track of all your bonuses.  In order for a cash bonus to be financially viable to the casino, it imposes a play through requirement on all bonus recipients.  This means that the players must bet a factor of the bonus before they can withdraw any money.  Without a play through requirement, some players would simply withdraw their bonus money as soon as they receive it.
So, the play through requirement is logically fair.  Nevertheless, some online casinos make the play through requirement so high that it becomes next to impossible to reach the factor required before the money runs out.  Before joining any online casino, be sure that its play through requirement is fair.
A good and reputable casino will employ software that specifically tracks each bonus you receive from the casino.  One way they do so is by following the bonus codes you use when you accept the bonus.
A good online casino will also employ software that follows your account after every game you play.  That would mean after every spin in slots or every hand in poker or blackjack.  by following every play you make, the casino will have firsthand knowledge of your gaming history so it can quickly, easily, and fairly resolve almost every disagreement you might have with the casino.
Many Other Factors
In future articles we will discuss many other things to look for as you search for a top notch online casino.  In the meantime, we faithfully hope you find the hundreds of games available here at Springbok Casino to your satisfaction.