Santa's back and he's not so jolly!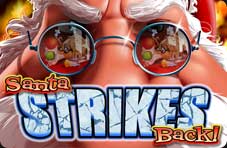 Ready for another round? Well Santa's got one for you, he's back on his feet and this time, he's really had enough! There's only one thing on his mind and that's taking control of the North Pole!
Join Santa in this festive battle to restore order in his Secret Village, and get ready for prizes, lots and lots of PRIZES!
When 3 or more Santas or Rudolphs are victorious in their scuffle, you will receive 7, yes... SEVEN FREE GAMES!
Whether you get Santa or Rudolph's FREE GAMES, you are guaranteed to get additional surprises, after all, you are in Santa's Secret Village! 
Play NOW!