Top 5 Most Played Games in 2020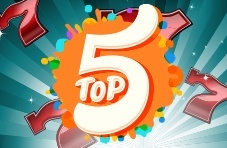 Here at Springbok, we want to keep our customers happy. So, we keep an eye out on what your favourite games are and what games you all play the most. Every year we publish a list letting you know the top five games at our casino. We release new slot games all the time, but there are a few fan favourites that keep popping up time and time again.
Sometimes a game is an instant hit and players all flock to play it and can't get enough. New or old we look at them all, to compile this special list, just for you.
The more we know about your favourite games, the more epic the new games we can bring to you. Games we know you will love! What makes a game popular? From what we've seen; great payouts, appealing graphics and special features all seem to make a game a hit.
With no further ado, here is our list for 2020:
1 - Sweet 16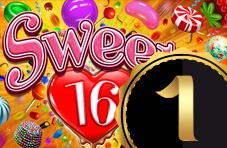 Sweet 16 has been giving players a sugar rush since 2016. Developed by RTG this game is definitely a huge favourite amongst Springbok customers. It's been number one on our list for the second year running now.
What makes Sweet 16 so, well, sweet? One of the reasons may be the impressive Progressive Jackpot. But there is plenty more then that keep you all coming back for more. For one thing the bright happy, treat filled 5x3 slot is bound to make you feel like a child in a sweet shop.
Chock full of lollies, toffies and jelly babies to satisfy your sweet tooth. You can claim 16 Free Spins within the game if you land three scatters on a single spin. Enter the Free Spin round to enjoy Morph Magic multipliers which can multiply your bet by 20 times!
2 - Cleopatra's Gold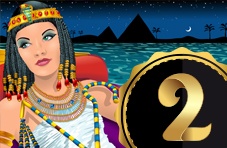 Did you know that Cleopatra's Tomb has to this day never been found? Just imagine all the gold, riches and historical artifacts that may be uncovered if one lucky explorer were to discovery its whereabouts. While we wait for the great find, at least we can dig into her treasures in this 5-reel, 20-payline video slot.
The game was released in 2013 and quickly became one of RTG's trademark release. It's so popular at Springbok that in the last year it has jumped up from the 3rd spot to the 2nd spot on our most popular list. One of the reasons for this is that you can trigger the Progressive Jackpot during any spin.
Cleopatra's Gold uses retro visuals to take you back into history, ancient history that is. This slot offers impressive payouts, paying out left to right. Indiana Jones wannabees are rewarded for matches of as little as two of a kind.
Although never proven, we'd like to think that the mighty Cleopatra's tomb might be hidden in a mighty pyramid. Find three pyramids to trigger your Free Spins round. When you do, you'll get 15 Free Spins. The real treasure in this trove? All of your winning during this round will be tripled.
Time to dig deep and uncover the riches that lie beneath.
3 - Plentiful Treasures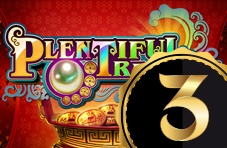 The first completely new entry this year into our top five list, Plentiful Treasures takes you to a place long ago and far away. In this simple 5 by 3 video slot you'll travel to ancient china in search of gold coins and magical riches.
We're not surprised you love this game; it boasts plenty of special features. The game was only released in October 2018, so it's standing on our list is pretty impressive seeing all the slot games available in the world.
If you haven't played this game, you might be wondering what exactly makes this game so popular. Simply put, it has plenty of treasures. RTG has had lots of time to develop their award winning games, so it's no surprise that new iterations of their games will offer something special. Wilds in Plentiful Treasures come equipped with a very impressive 5x multiplier. The 5 by 3 game board allows for up to 243 ways to win by paying out both ways.
While most games feature a single jackpot, this video slot has four unique jackpots, the mini, the major, the grand and the progressive. You'll find treasure even if you hit the smallest one. But hit the progressive and the treasure just might change your life.
4 - Ghost Ship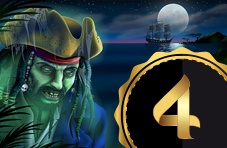 Ever heard of the Flying Dutchman? No? It's not a nickname for Anrich Nortje, it's actually one of the best-known ghost ships in the world.
Legend has it that the mighty ship sunk off the coast of Cape Town in the late 16th century. Since then, every sightings of a luminous boat have regularly been seen during wild weather.
RTG payed homage to this infamous vessel by creating Ghost Ship, a creepy Video Slot. It has been around since 2015, but due to some innovative game play it has only recently really come into its own.
The captain of the doomed ship, seems to pay tribute to the greatest pirate in cinematic history, the great Jack Sparrow. In the game he's a ghost of his former self, but still keen to welcome you aboard.
Ghost Ship will take you to the depths of the Atlantic where you can find real sunken treasure. This special slot is another new entry to our list. Why not take a spin of the helm to see what all the fuss is about?
One of the legends of the Flying Dutchman is that you can still hear the toll of the ship's bell when you are far out at sea. The bell also features prominently in the game.
The sign may read "abandon all hope, ye who enter here", but the game is filled with swashbuckling fun.
5- Achilles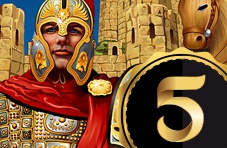 The only game on our list this year to have dropped down. That's not to say that the game isn't phenomenal, it just means that there is always something new at Springbok to get your heart pumping.
Like Cleopatra, Achilles uses ancient history or myth as inspiration. The 5 by 3 video slot was released by RTG back in 2012 and offers 20 paylines. What keeps punters coming back for more? Our guess is the progressive jackpot. At any given time, you could trigger the Progressive Jackpot.
Achilles' weakness may have been his heel, but this Ancient Grecian surpasses that weakness with lots of features, no trojan horse included. The Achilles Wilds will get you excited for a number of reasons, grab three or more for up to 25 Free Spins, or simply use them to replace all other symbols.
For a game to embrace the mythical theme it must include a little magic, Achilles has managed to maintain its popularity because it hits all the spots. A Progressive Jackpot, special features and engaging graphics.
Play now and embrace the spirts of the gods.