Zelda K. scored a big win – with just one spin!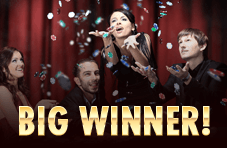 Somebody is clearly not on Santa's naughty list – as with just one R30 deposit in Santa Strikes Back, Zelda K. triggered the Rudolph's Revenge feature and bagged himself a whopping R57,207! Congratulations Zelda!
South Africa's Number One Casino strikes again, and makes another winner a whole lot richer – is it your turn next?
Why not try your luck, like Zelda, on Santa Strikes Back? Make it Christmas everyday with this joyous battle to settle order in Santa's Secret Village. Get ready to write some thank you cards, as when three or more Santas or Rudolphs are victorious in their scuffle, you will receive your first present in the shape of 7 – yes, S E V E N - free games!
So what are you waiting for? All it takes is just one spin, and you could win – just like Zelda!