Put on your best suit…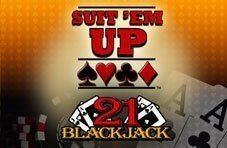 …and take your place at the table, because Suit 'Em Up™ Blackjack is on its way!!!
Suit 'Em Up™ has all the features of the Blackjack games you know and love, but with a stylish side bet twist! Keep an eye on your hand and place a cheeky wager on the side bet. If the first two cards are of the same suit, then get ready to win big – with whopping prizes up to 60/1 for suited aces!!!!
So dust off your best James Bond suit, grab a cocktail and head on over to the table at South Africa's Number One Online Casino on May 20th – the dealer will be waiting for you!