R97,182.28 richer on Naughty or Nice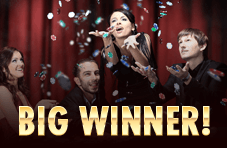 Johanna S. had a wonderful time this week over at Naughty or Nice? Just a R4 bet made the 46-year-old from Cape R97,182.28 richer.
There she was, having a bit of a mid-year Christmas with Santa's lovely helpers and – boom – the progressive jackpot hit.
You just never know when South Africa's Number One Casino's games are going to make all your wishes come true. It's quite possible that Santa's sexy helpers were just in need of a bit of attention, what with Santa on a break. The chances are, they're still feeling generous, so why not pay them a visit.
Want to know how Naughty or Nice works? Simple!
Get the choice between right and wrong correct and have 10 free games
When Santa's helping appear in regular games, prizes are doubled
When Santa's helpers appear in free games – win up to 20 x your bet
So now you know, get over to Naughty or Nice and see how nice Santa's helpers are feeling today. Play on download or Instant Play -- it couldn't be simpler.