New Game: Bubble Bubble Pops Up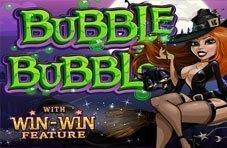 Realtime Gaming (RTG) has toiled and troubled to bring South Africa's Number 1 Online Casino its new spooktacular new 5-reeler, Bubble Bubble.
Wiley Winni the Witch is unleashed on the Springbok mortal world, bringing with her a coven of cunning. Great Ghosts creep and crawl across the cauldron of fun, swirling up 20 FREE spins as they pass. Watch out for the nine Wild Ghosts that could join the creepy party at any time.
The Wild Witches feature is one to watch, with bonuses popping out of the cauldron at any time. And on your wickedly wild ride, be Bewitched by Winni the Witch with her 7 FREE spins whenever the Wild widens across the wheels.
Steady yourself and be ready for the Halloween of your life with this video slot from the sorcerers at RTG. They've worked their magic on a game that will work its magic on everyone, from serious slotters to casual gamers. Wands at the ready, here come Winni and her wiley crew on Instant Play, to download and on Mobile Casino