Big bonuses mean big wins in our Big 5 promotion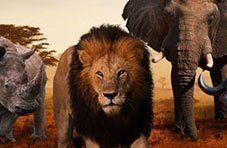 South Africa is one of the most diverse and exciting countries to live and if, like most of us, you've spent some time out in a game park hoping for a glimpse of the elusive leopard or searching for a herd of rhino, you'll know just how important it is that we appreciate the country we live in. We are proud that we live in a country that has such a wide range of wildlife and some of the most beautiful landscapes the world has to offer, which is why at Springbok Casino, we've got our own big five.
Our Big Five bonuses are some of the best available online and you won't need a set of binoculars to spot them. Until 19 November, you can claim each of these five bonuses which offer you more value for money so that you can keep playing the games you love. The first four bonuses will reward you with 100% or more value, while the fifth and final bonus is on us, a gift of R1 000 to those players who claim the first four bonuses.
Here's how it works: the first bonus is a 100% bonus up to a maximum of R1 000 and you can claim it now at the cashier using the code BIG-5-1. Not only will this give you a match on your money that allows you the freedom to play more games for longer, but you can claim this bonus no matter what time of the day or night it is, as long as you stick to the minimum deposit amount of R150. Next, claim a second bonus of 125% match up to R1 250 using the code BIG-5-2 and a third bonus of 150% up to R1 500 using the code BIG-5-3. If you've claimed the first three bonuses, don't skip the fourth in which you'll be rewarded with a 200% bonus up to R2 000 using the code BIG-5-4. Finally, once you've claimed the first four bonuses, you can claim your FREE (yup, that's right, we said FREE) bonus of R1 000 using the code BIG-5-5 and play to your heart's content.
As an extra added bonus, we've also got a special promotion for our Facebook fans. To claim your R150 free gift, simply visit the Springbok Casino Facebook page and find the special Big 5 post. Like the post and you'll be able to claim your free gift. Be sure to like our Facebook too if you want all of the latest news and updates on our regular promotions.
The holiday season is fast approaching and if you're looking for a little pre-December entertainment, why not get a little extra enjoyment on us? The Big 5 promotion celebrates everything that is great about SA from the sunsets on the savannah to the wild animals we're so proud to call our local treasures. Join in the celebration by claiming your Big 5 bonuses today and who knows, you could be the winner of any of our great jackpots or progressives on slots and table games.