SPRINGOLPH, YOUR FAVOURITE RED NOSED SPRINGBOK, IS BACK!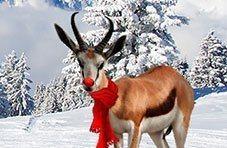 You know Dasher, and Dancer, and Prancer, and Vixen, and Comet, and Cupid, and Donder, and Blitzen, but do you recall the most famous reindeer of all? No, it's not Rudolph, it's the red nosed Springolph, Santa's little helper from South Africa. Last year it brought us all loads of fun during the Christmas season, and now he's back to deliver some more! The first presents to come off his sleigh are numerous Free Spins. And this year he's convinced Santa to be extra generous to all Springbok members.
Free Spins For All, Ho-Ho-Ho!
That's right; whether you're new to Springbok Casino or one of our cherished regular players, you can collect 25 Free Spins immediately. Just use coupon code SPRINGOLPH-SPINS and we'll give you a gift of 25 spins to play Naughty or Nice! Your Free Spins are valid until 4th December, so take up Springolph on his offer now and spin the reels of this holiday-themed RTG slot delivering numerous features and a randomly-awarded progressive Jackpot on top.
Springolph Says: Free Spins Every Day!
Did we mention Santa is in very generous mood this year? That's why he's instructed his little South African helper to deliver 25 Free Spins every day to the Casino message centre. Every single day, starting from 1st December, there will be complimentary spins waiting for you, provided you've made a deposit within the previous 3 days. It means that you'll get to spin for free while playing your favourite slots 3 days in row, after making a single deposit. How's that for a holiday treat? Springolph is happy to provide and will keep delivering these gifts until 25th December.
Hang Out With Santa's Favourite Reindeer in Springbok Casino
Springolph is back from his holidays and there's no telling what might come out of the Santa's bag he brings along. Collect the gifts he's already unpacked and keep your eyes open for more. South Africa's #1 online casino is determined to make your holidays merrier than ever and we'll complement our extensive game and promotions libraries with even more treats. Springolph will keep surprising while you enjoy your favourite online casino games wherever you are.