Make Friday 13th Lucky With R1,300 Gift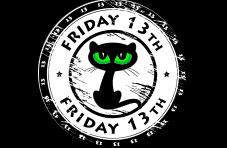 What are your first thoughts when you think of Friday 13th? Scary movies and images of blood-curdling drama taking place in Camp Crystal Lake? A vision of the supposedly drowned teenager wearing a spooky hockey mask while looking for his next victim? Or do you think it's a day when it's better to stay in and hope nothing bad happens? Movie industry has done a lot to fuel the superstitions related to Friday 13th which exist across the world, and this is generally believed to be a day of bad luck. But what  if, instead, something good would happen, such as your Springbok balance growing by R1,300?
Free Bonus Brings Good Luck
That's right, we've decided to turn this day around by giving away R1,300 which you can play with on any of your favourite games. All you have to do is make a deposit between January 9th and Friday 13th, then use coupon code FRIDAY13-2017 on Friday 13th to claim the bonus. Pick it up and your luck will surely improve, with a chance to collect as much as R2,500 as the resulting win. Wouldn't that change your mind about this daunting date? Coupon can be redeemed between Friday 13th and Sunday 15th. Make sure to boost your balance in the preceding days so we can boost it once again during this period. For all additional information, please check our T&C section. If further assistance is needed, our friendly support staff is standing by to help 24/7. Among many contact options available, South African members can also use a toll-free phone to get instant, professional support.
Collect, Play, Win
If you're one of our regular players, you'll know we've intensified our promotional offer as year 2016 was coming to an end. But we're not stopping now! Many treats are in store to make this year as rewarding as the previous one, if not more. New members can start off by collecting R11,500 welcome bonus and keep getting lucky with all other special offers in Springbok portfolio. Whether you've been with us for years or have just come aboard, the Friday 13th treat is within you reach. Just make a deposit in the period stated above and claim your good luck charm. We wish you a happy Friday 13th and happy year 2017!