Celebrate the Dolphin Awareness Month at Springbok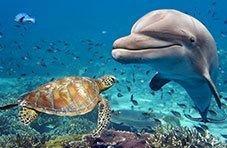 March is the Dolphin awareness month, and to celebrate, Springbok is sharing interesting dolphin facts and stories and offering a variety of themed promotions. The first are there to help you learn a few things you might not have known about these beautiful animals, and the second to make your cash last longer and help you collect bigger awards. We hope you'll enjoy them both while playing your favourite online casino games at South Africa's best mobile casino.
Pick Up 25 Free Spins to Win on Crystal Water
First of all, we're giving away 25 Free Spins to be used while playing the ocean-themed Crystal Water video slot. A lovely dolphin will double your wins, and fortunes are within reach with the help of free games with multipliers and a randomly awarded progressive jackpot. To claim your 25 free spins, use coupon code DOLPHIN-SPINS and let our little gift deliver as much as R5,000. This bonus is valid until 5th March and the standard Terms & Conditions apply.
Collect Massive Deposit Bonuses
A deposit bonus of up to R5,000 is up for grabs until 13th March, so make sure to show up in time to collect it. All you need to do is make a deposit using code DOLPHIN-250 and we'll match it with a generous 250% bonus. Inspired by dolphins and brought by Springbok, for you to enjoy anyway you like! 
If you want more, you've got it! Every player who makes a real money deposit between 1st and 13th March, gets to claim a R1,500 free bonus. This offer can be redeemed on 13th March with a coupon code DOLPHIN-FREE, and using it to play a game of your choice gives you the opportunity to cash in up to R2,500. Bonus is valid from 13th to 17th March and the usual Terms & Conditions apply.
Let the Dolphins Make You Smile
Seeing these friendly and playful mammals is probably enough to make you smile, and if you read the stories we have selected to share with you, good mood is guaranteed. Just to make sure, we've added a few treats in the form of free spins and bonuses, yours to take and enjoy during the month of March. If you happen to be spending a lot of time outdoors, get entertained by heartwarming stories, great games and generous promotions using your iPhone or Android mobile device.