Hunt for the Golden Egg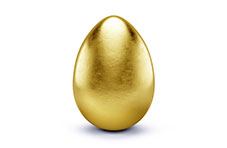 In addition to all upcoming Easter promotions, the mysterious Golden Egg gives you one more chance to get more out of gaming at Springbok. Why mysterious? Because we love surprises and will not reveal the whole things just as yet. What we can tell you is that, once the Egg opens, it will award gifts worth R1,000 to R3,000. And whether it opens or not is completely up to you!
To make sure you get your Easter surprise, make a deposit between 1st and 14th April. Once that's done, the Golden Egg will open in your email inbox and the casino message centre on the Good Friday. This is your chance to go egg hunting once again, make sure not to miss it!
Springbok Offers Gifts All Year Round
We've got many other promotions in stock, including the welcome bonus of up to R11,500, many ongoing deals, as well as seasonal offers such as the Golden Egg. All you need to do is register and play for real cash, via a desktop or a mobile device.
South Africa's Nr 1 mobile casino will happily welcome you into a large and growing gamers' community and reward your trust and loyalty as you play many of our exciting slots, table games and tournaments. And before you celebrate Family Day on Easter Sunday with those close to your heart, don't forget to enjoy it with your second family here at Springbok.
As you're counting days to one of the most favourite holidays among Christians everywhere, we're thinking about how to make this special event even more enjoyable for Springbok family members.
You've probably participated in the exciting egg hunts when you were a bit younger, and having grown up, perhaps you sometimes watch the kids involved in the same activity with kind of nostalgia and a bit of envy. Should being an adult mean you can no longer enjoy such treats? No, we don't think so either, and that's why this Easter Springbok is offering a Golden Egg to all those young at heart.