Oscar-Nominated "Revolting Rhymes" by South Africa's Jakob Schuh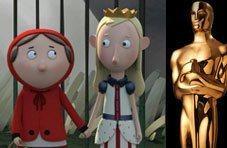 The Oscars are coming and in less than a month we'll see who gets to triumph. One of the nominees in the category of  animated shorts is the adaptation of Roald Dahl's Revolting Rhymes, created by Jakob Schuh and Jan Lachauer in cooperation with the Cape Town production company Triggerfish Animation.
Roald Dahl was a colorful character - a spy, a fighter pilot, a medical inventor and a chocolate historian; but also a first-class storyteller. In the early 1980s, Mr Dahl has published Revolting Rhymes, a collection of comic nursery rhymes based on six popular fairytales – Cinderella, Jack and the Beanstalk, Snow White and the Seven Dwarfs, Goldilocks and the Three Bears, Little Red Riding Hood and the Wolf, and The Three Little Pigs. The Schuh – Lachauer team took was a corky affair to start with, and turned into a half-hour mesh up celebrating girl power.
Bringing together characters from several different stories to create a single one, while at the same time keeping the original Dahl's rhymes, was clearly not an easy task. "We cut the book up and started switching rhymes around and tried to conjoin the separate stories into one story without adding rhymes and without changing rhymes," says Schuh. "You want to have these characters that don't know each other in the book to have a conjoined story with a conjoined ending, so the process was lengthy and tough, I have to say."
Oscar nomination proves the two filmmakers managed to do a great job. They delivered a computer-animated story which is at the same time funny and touching. It starts with a friendship struck between Snow White and Little Red Riding Hood when they were kids, showing what happens to it as they grow up, with the Three Little Pigs and the Big Bad Wolf giving their own contribution.  
Lasting just under half hour, "Revolting Rhymes" is the longest nominee in its category. Adapted Dahl's work will be competing against Kobe Bryant's "Dear Basketball", the wordless "Garden Party", Pixar's "Lou," and "Negative Space" from Max Porter and Ru Kuwahata. Let the best one win, we'll say in a sportsmanlike manner, but it's only natural to be cheering for one of our own. The team at Springbok will make sure to watch Oscar Academy Awards on 4th March and we'll collectively keep our fingers crossed for South African Triggerfish Animation and their "Revolting Rhymes".