Play our 200+ Exciting Games with No Waiting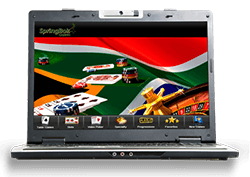 Springbok Casino is the place to come for great casino games.  We offer over 200 games in several game categories.  It isn't just the number and quality of our online casino games that attract so many thousands of gamers to our place in cyberspace. It also isn't the many free spins and other bonuses you can win or the great promotions that bring gamers from all over the world to Springbok.
There are also many advantages to gaming at an online casino and we'll tell you about them as we talk about the wide variety of Springbok casino games.
Welcome Bonus
Before we get into the games, please check out the offer we make to all new gamers.   We offer up to R11 500 in three separate deposit bonuses. There is also a free no deposit bonus as well.  These bonuses are easy to access and once you join you'll find that we offer many promotional bonuses to our gamers.
Play for Free
Of course, you like to put some money on the line.  We also know that you like to "just play" sometimes.  We offer unlimited free play because we can.  No land based casino can but we can!  Free play is also a great way to learn the nuances of a new game.
Let's see how many different games we have on offer at Springbok.  Well, we have a large assortment of slots; many video poker variations; a lot of blackjack varieties; table poker; plus a great complement of specialty games including roulette, baccarat, bingo and others.
So, there are a lot of games to check out and, at Springbok, you can try them all for free!  
Desktop, Laptop, Mobile Oh My!
We offer three gaming platforms for your comfort and convenience.  The classic format is for desktop or laptop computers.  You can download the casino or use Instant Play on your browser which is a fantastic way to play whilst you save hard drive space on your computer.
We also offer many mobile casino games.  The graphics on mobile are so much better than they were a few years ago and many gamers play exclusively on their mobile screens - phone and tablet!  Clearly, if you choose to play on your mobile screen, you have all the games, all the fun on the go - you decide when and where to play!
No Waiting, Ever!
When you sit down to play our big variety of Springbok online casino games, you never, ever have to wait.  Cyberspace which is where the casino is located is infinite so there is always room for another gamer!  Just sit down and get ready to have fun. 
Our gamers tell us that no waiting is one of the best features of Springbok.  Because there is no waiting and you can't lose your seat, online gamers play a lot more games than they can play at a land based casino and they can play more various games as well!
New Games Every Month
We bring out at least one new game every month.  These are usually slots.  That's because slots are the most popular games at the casino.  So, let's see what slots have to offer.  Land based casinos may also introduce a new game every month but then they have to take out an older game to make room.  That never happens at Springbok.
An Abundance of Slots
You'll love our slots with all the features known to man.  Some have 3 reels and some have 5 reels. We have even introduced slots with 6 reels!  There are also a variety of paylines depending on the game.  There might be nine paylines or so many ways to win that we simply say 243 ways to win!
Every slots game has a theme.  You can go from outer space to the ocean depths and then to ancient Greece, Rome, or Egypt.  We've got themes based on TV shows, movies, sci fi, nature, whimsical characters, mythology, and the list goes on and on.
In addition to the diverse themes, our slots have many extra ways to help you win.  Every slot has a wild symbol.  Sometimes the wild symbol doubles or trebles any win it creates.  Our game provider, Real Time Gaming, does wonderful things with the wild symbols.  They may expand; sometimes the wild symbol is stacked on a reel, or stays in place for a few spins.
Our slots have scatter symbols which take you to the free spins bonus rounds where the chances of winning go up.  The free spins bonus rounds may have big multipliers or special uses of the wild symbol to help you win even more!
Blackjack
With blackjack, we get into the area of the games that require some study and careful decision making.  We have a nice variety of blackjack games, each of which has its own subtleties.
To help you learn how to win the most at blackjack and all of our games we have a special section of tips.  We help you play at the highest level!  In blackjack, there is a statistical reason for every play we suggest you make.  Sometimes they may seem counter-intuitive.  That's why we have our tips section: to help you play better than any immediate logic might lead you.
Video Poker
We offer single hand, triple hand, five hands and all sorts of multi-hand video poker games, where you can play up to 100 hands at the same time.  Players tell us that they love seeing the winning draws add up in multi-hand video poker.
We have a three part tips and strategy series exclusively for video poker.  If you learn the best strategy and play according to it, you can actually win more than you lose at video poker.  
Table Games
Under the category heading of table games you'll find blackjack plus poker and craps, war and rummy.   Poker is always popular either as video poker or as table poker.  And we aim to please with a large variety of both.  Each one of the many varieties of table poker has its own special strategy.  Amongst our poker offerings are many games that have Caribbean rules for that extra added twist. 
Specialty Games
In this section we offer mainly bingo and keno.  We also offer the Big Three roulette variations: American, European, and French and we explain how to play them for the greatest winnings.  You'll also find fun scratch cards in the specialty game section. As well as a board game and a shooting game.  So if you're looking for something different, check this section out. 
Progressive Games
Progressive games are those that offer a massive jackpot to the lucky gamer.  They are called progressive games because the jackpot rises continually until one lucky player wins it. And then the jackpot begins to grow again. 
At Springbok you'll find a large variety of slots and poker progressive games.  The jackpot on these games is run by the game provider so the jackpot can get well over six (and even seven) figures.  A small amount of money is taken from every bet to go towards the progressive jackpot.  Imagine millions of players from every corner of the globe contributing a small amount from every bet!  That's why these progressive jackpots grow to such large amounts!  And they're just waiting to be won!
Come Play Casino Games at Springbok
You'll find great games, excellent promotions, amazing mobile graphics, free play, and many other amenities to our gamers.  Become a Springbok Casino gamer today!