Online Payment Options for Online Casinos: EcoPayz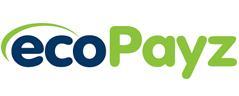 The things you most care about when making online payments are the same Springbok thinks about when compiling the list of available deposit and withdrawal options. You want your transactions to be safe so no one can temper with your cash or get hold of your personal information. You also want a hassle-free option of funding your casino account and cashing in your winnings, while not having to pay extortionate fees. EcoPayz is one of those giving you freedom to make secure online payments without having to worry about security and privacy. Read on to learn why we've made sure this banking option is available to Springbok members.
About EcoPayz
The original EcoCard platform was born in 2000. In 2009 the owner of EcoPayz became a principal member of MasterCard, and the same year they've launched their own iPhone App, being the first financial institution to do so. Having experienced significant growth since the service was first offered, in 2013 the company has decided it was time for re-branding. This is when EcoPayz brand was born, along with products such as ecoAccount, ecoCard and ecoVirtualcard. The same year they've launched a mobile site, followed by an app which gave their clients the freedom to access their accounts 24/7 via an iPhone, iPad or an Android mobile device. In August 2016 EcoPayz has introduced a 2-step verification feature in order to offer their customers an additional layer of security. Today they make their services available to customers in more than 170 countries.
Once on board, you'll be able to use your ecoAccount to pay online in more than 45 currencies, get hold of a prepaid ecoCard usable at millions of shops and ATMs, or take advantage of the one-use virtual card offering added security. The latter will allow you to make safer payments online and it's instantly available as soon as you select this option in your ecoAccount. Virtual card expires after one use, which means it can never be lost nor stolen.
EcoPayz is authorised by the Financial Conduct Authority, uses the latest fraud solutions, and automatically encrypts all transactions from your browser to their website using SSL protocol or Transport Layer Security protocol. Assistance is available whenever needed, thanks to the company's multilingual customer support operating 24/7. 
How to Use EcoPayz
An EcoPayz account is simple to open and the entire process takes no more than a few minutes. You'll be prompted to choose a username and a password, enter your email address to which an account activation link will be sent, and choose the currency. Unlike with some of the other payment options, EcoPayz doesn't require that you own a bank account, nor will the company do any credit checks. Once registered, you'll be offered multiple ways to top up your EcoPayz account, including Visa, Fast Bank Transfer, iDeal and Paysafecard.
In order to initiate a money transfer, you'll need to log in, enter the account you wish to send money to, the amount and recipient's details. Sending money to EcoPayz merchants is free of charge, and so is receiving it. There are some fees related to funding your ecoAccount though, depending on method used and your country of residence.
All new members get Classic ecoAccount by default. If you find the attached limit of €2,500 transaction value too low for your needs, all it takes is to go through the verification procedure in order to advance to a Silver member and remove lifetime limits all together. This platform actually features 5 levels, each following one offering higher daily, weekly and monthly maximum transaction limits. 
Benefits and Limitations of EcoPayz
EcoPayz ticks all boxes: it's as safe as it can be, easy to use and exceptionally convenient. If you're playing at multiple online casinos, this service will save from having to enter your credit card details each time you register at a new site. Your EcoPayz account can be topped up by a variety of different methods, both via desktops and mobile phones. Deposits and withdrawals take only a few clicks, with no fees being charged by the provider. There are no obvious limitations, except for those linked with maximum transaction limits which are dependent on your member status.