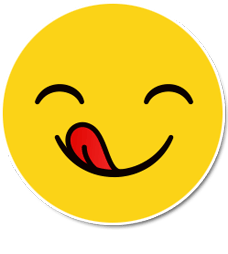 South African Food and Goodies
Every country has its delicacies, things you talk about when you want to introduce foreigners to your eating culture – from snacks and beverages to "home-made" products and condiments.
These represent nation's favourites, mouth-watering traditions, specialities and cravings, and if you're wondering which food and goodies are the most popular in South Africa, here's the ultimate list:
Koeksisters
Ask any South African about koeksister and they will tell you the ultimate truth - nobody likes a dry koeksister! This syrup-soaked sweet is the crown of South African cuisine; it is so rich and full of that sweet, sweet flavour you will get enough calories from it to outrun a charging hippo. The name is pronounced "cook-sister" and it is a braided or twisted fried pastry soaked in flavoured syrup. Take two strips of dough and twist and entwine them to form a single pastry and soak that piece of art into sugar syrup. But the catch is this – it has to be juicy enough to squirt syrup when you bite into it, while on the outside it feels crispy. The magic moment, many will argue, is when the dough deep-fried in oil is immediately dipped into cold syrup, creating an absolute paradise for the senses.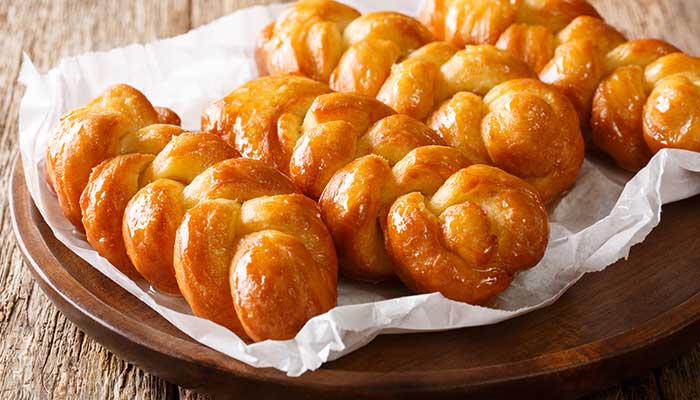 The origins of this sticky dessert are not quite clear, but one thing is – it is not for the calorie-counting type. For many growing up in South Africa, the koeksister was a weekly treat. People sometimes compare it to doughnuts, but others would strongly disagree, claiming that a plain doughnut is no match for such a culinary delight. You be the judge.
Nestle Peppermint Crisps
Looking for a wonderful, exciting and different chocolate experience? Nestle Peppermint Crisps is the way to go. Made from milk chocolate which covers thin air-filled tubes of mint-flavoured 'cracknel' (a brittle crystalline/sugar concoction), Nestle Peppermint Crisps is a popular South African confectionery item often used for the Peppermint Crisp tart. While the smooth chocolate may stick to your teeth (duh, it's chocolate), you will likely enjoy the fresh minty taste that makes this bar unique.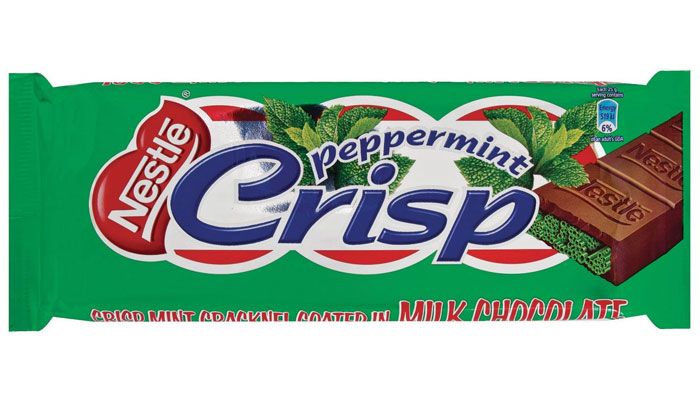 Nestle Peppermint Crisps has been sold in the South African market since 1959, and it's the contrast between the milk chocolate and a distinctive crisp texture with a cool mint flavour what made it so popular. In 2019, there was a social media panic over Nestlé South Africa discontinuing the product nationally. However, it was all a big misunderstanding, since the company had no plan to do that. They did decide to discontinue the 130g bag, which probably caused the confusion, leaving the 49g and 150g bags available for all the folks with a sweet tooth.
Biltong & droewors
If we're talking about trademark South African snacks, there's no way we'll leave out biltong and droewors. In South Africa, dried meat delicacies come in a variety of textures and flavours, and the most popular are beef biltong and droewors. Biltong translates from Dutch as "rump-tongue," and the meat strips are marinated in a vinegar solution before the spices are added and they are hung to dry. The biltong's unique taste comes from the ingredients of the marinade and the spices. Yummy!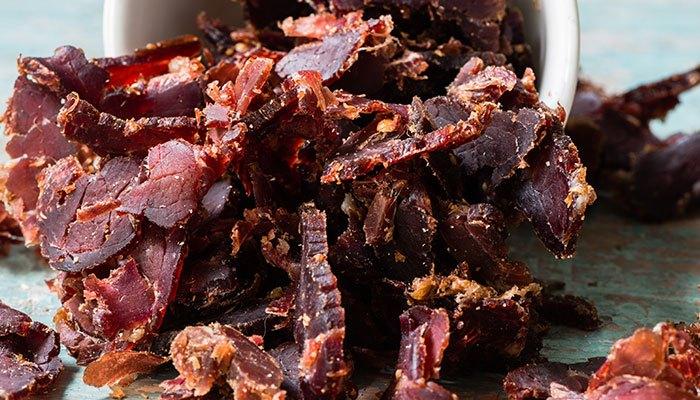 Droewors, on the other hand, means "dry sausage" in Afrikaans. It is also made from beef and it is a narrow dried sausage flavoured with coriander seed. Dried quickly in warm and dry conditions, droewors is quite different than products such as salami. To some a beef stick, but to others a taste-bud satisfying delicacy, droewors will teach you a lesson about traditional South African cuisine you never knew you needed.
Malva Pudding
Often found on the dessert menu of South African restaurants, malva pudding is arguably the epitome of comfort food in the country. The sweet pudding is believed to be of Cape Dutch origin and its name is still a frequent topic of discussion. Some say the dish is named after the Afrikaans word "malva", meaning "marshmallow", while most people agree that the name comes from Malvasia wine from Madeira, as dessert and dessert wine used to be served together.
The pudding is usually made from simple, inexpensive ingredients such as butter, sugar, eggs, apricot jam, milk, flour, and salt. It has a spongy caramelized texture. Malva pudding is typically served warm, often straight from the oven, preferably with vanilla custard on the side, ice cream or whipped cream. The addition of vinegar and apricot jam gives the dessert the perfect sweet and sour mix for a memorable taste.
Braaibroodjies
South African people love braaibroodjies, the staple dishes of any braai (a weekend barbecue session or a festive barbecue). To the cultural outsider a braaibroodjie may not look much different from a grilled cheese sandwich, but it is so much more than that. Traditionally made with white sandwich bread, tomatoes, onions and cheddar cheese, braaibroodjies are the highlight of braai-based cooking. A perfect braaibroodjie is not burnt, crispy, has cooked onions and tomatoes, melted cheese – by no means can it be soggy and burnt, with uncooked ingredients and cheese that hasn't melted.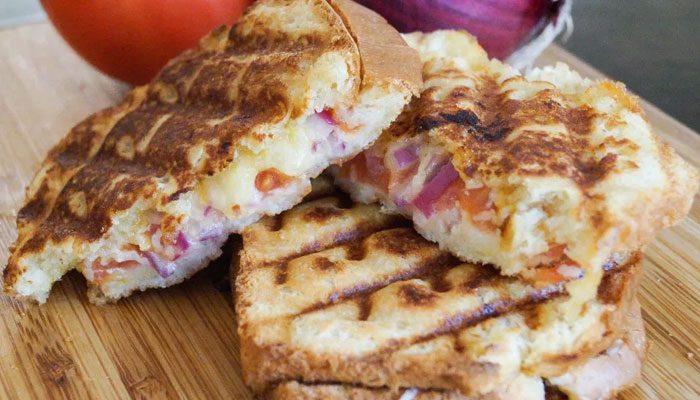 Regular weekend meat feasts are the main events for braaibroodjies, and there are rarely any leftovers. Once assembled, the sandwich is transferred to a hinged braai-grid to be grilled over medium-hot coals until the outsides are golden brown and the cheese starts oozing. A dreamy summer meal!
Beacon Cherry Fizz Pops
Make way for the lollypop! Beacon Cherry Fizz Pops are cherry-flavoured hard candy lollipops with a fizzing sherbert filling which create a disco party in your mouth. Kids love Beacon Cherry Fizz Pops, whether they are sucking on them at parties or leaving the doctor's office with a delightful comforting prize. Of course, who's to say that grownups can't munch on them too? The little balls of flavour, however, are 100% carbs and not for those who are trying to keep their sugar levels on the minimum. There are 72 calories in a 1 lollipop serving of Beacon Fizz Pop.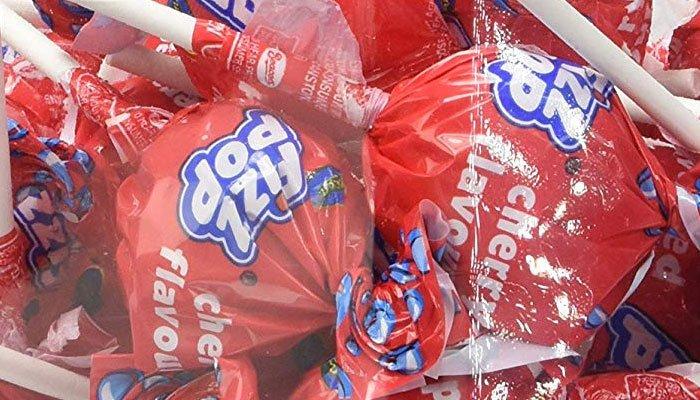 Fizz Pops also come in Apple, Cola, Cream soda and Grape flavours, but for some reason Cherry is the most popular. The Cherry Fizz Pops lolly will bring back childhood memories of frizzyness and the only thing that may irritate you is when the paper sticks to your ball of divine goodness.
Bredie
Forget about stew, the name is bredie. Compared to its European cousin, bredie is richer, tastier and more varied. The name is an old Cape term for a dish made of meat and vegetables in a way that they are stewed together, intermingling flavours to the point when it is impossible to distinguish any individual taste.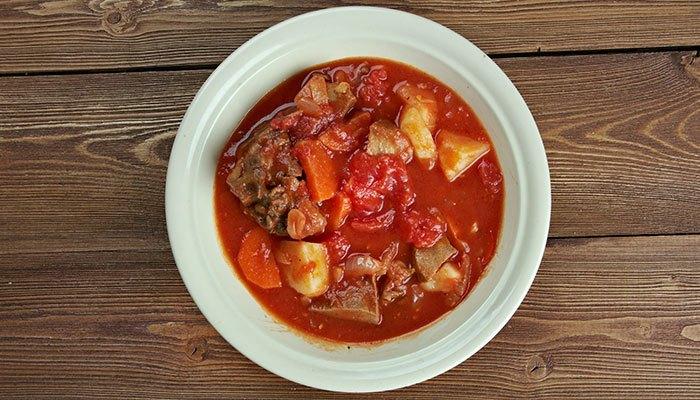 Bredie is known for its rich, thick and full-bodied gravy and unique savour which comes from the type of vegetables added. That being said, you may try waterblommetjie, tomato, green bean, pumpkin and cabbage bredie. As for meat, rib, breast, neck or shank of mutton are normally used, rolled in flour and browned before the vegetables are added. The bredie needs to simmer gently for a few hours for it to reach perfect gravy consistency and meat tenderness. If left for a day or two, the dish's flavour improves!
Melktert
South African Melktert is an African twist of the Dutch's egg custard pie; it was adopted by the Cape Malays in their interaction with the Dutch settlers during the 17th century and became one of the most loved traditional national desserts. South African women pass down their Melktert recipes from generation to generation – it is that important. A Melktert has a sweet pastry crust and custard filling which is made from milk, flour, sugar and eggs. It doesn't get any simpler than that.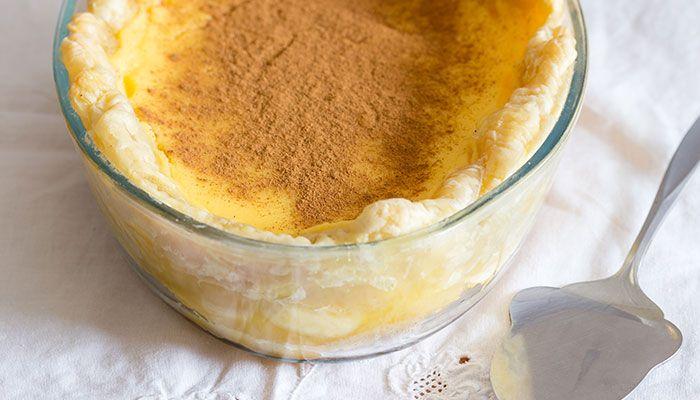 You can find Melkterts in South African supermarkets and it is often made ad served at church fetes. It is customary to sprinkle it on top with powdered cinnamon or cinnamon sugar and serve it either chilled or at room temperature.
Boerewors
Boerewors is South Africa's favourite sausage. The name stands for "farmer's sausage" and most boerewors creators guard their recipes jealously. Unlike other dishes and snacks which may be appropriate for certain occasions, the South African farmer's sausage is prepared in all seasons and for all types of functions, occasions and activities. No time is the wrong time for boerewors. Made from coarsely minced beef (sometimes combined with minced pork, lamb, or both), the sausage also includes lots of different spices – from toasted coriander seed and black pepper to nutmeg, cloves and salt. You can instantly recognise boerewors due to its long coil/spiral shape.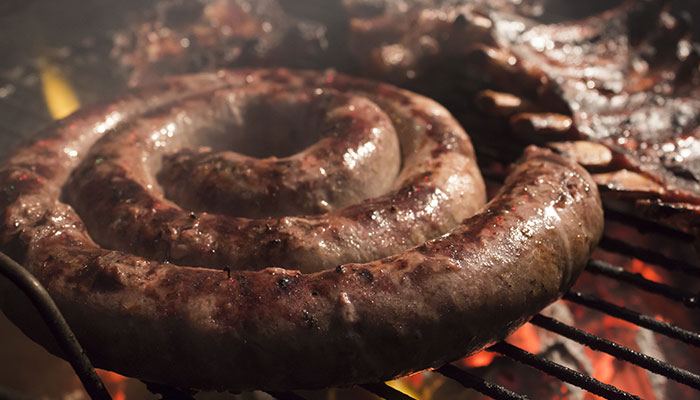 Lokals take great pride in cooking boerewors. The fish is synonymous with outdoor cooking, as its delicious, succulent, full texture and flavour are most notable when prepared on a grill over hot coals. The Guinness World Record for braaing the longest boerewors in the world was broken in South Africa in 2014. The sausage measured 1,557.15 m (5,108.8 ft) in length!
Sparletta Cream Soda
Craving a soft drink? Sparletta is probably the most common recommendation in South Africa. Manufactured by The Coca-Cola Company, Sparletta features a range of soft drink products, and Sparletta Cream Soda really sticks out. It was introduced in 1955 in Africa and ever since the brand has been encouraging teens and young adults to "live a little and have fun".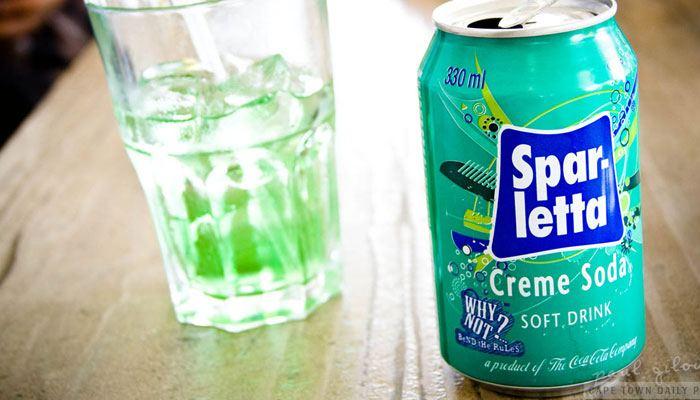 Its taste is described as "refreshing and uniquely South African", appropriate for mixing or drinking it straight. The colour of the beverage is as green as it can be and it features a memorable almondy sweetness. It is available in 300ml cans and 2l bottles. Why not – live a little!