Welcome Dr. Winmore at Springbok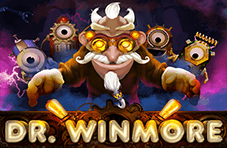 Real Time Gaming is on a roll, releasing space-themed video slots of stellar quality, exploiting the new honeycomb grid as the perfect platform to introduce celestial bodies as powerful slot machine symbols in a way no one has ever done before. While Pulsar, RTG's previous release was fully geared towards what's going on it outer space, the behaviour of stars and how an avid slot player can benefit from these phenomena, the company's February launch will play with combining of the space theme with a bit of steampunk.  
The crossover concept generated the character of Dr. Winmore, a space-obsessed gentleman of science who put in a lot of effort into building robots that would go into space and emulate the Neutron Star Feature and clear symbols out of the way for new ones to fall down and form new combinations.
How it Plays Out
Dr. Winmore is a 5-reel video slot which has the reels arranged in a honeycomb formation. Wins occur when 4 or more symbols appear horizontally or vertically adjacent (but not diagonally) and pays are awarded according to the paytable. This makes it a cluster-type machine. The special symbols do most of the work. As you hit Play, pay attention to Dr. Winmore – he may be a mad scientist, but he will help you build winning combinations playing the role of the substitute symbol.
Dr. Winmore's one-eyed robots will perform their duty as special symbols and appear on random reel positions, staying in place while regular wins are formed and paid. Once the winnings are paid according to the values given in the paytable, the robots will clear in specific patterns. They can clear an entire column, row, clear both the row and column they landed in or clear adjacent positions. It is not obligatory for wins to precede the robots clearing their patterns, as they will proceed and clear even if there have been no wins at the end of the spin.
The other main feature in Dr. Winmore is the cascades + multipliers feature. As it happens in all cascading slots, whenever a win happens, the winning symbols will disappear leaving empty spaces for new symbols to drop from above and occupy. Therefore, new winning combinations are possible. In the case of multiple consecutive cascading wins, multipliers will be awarded, growing on each consecutive winning combo. The prizes are doubled on the first cascading win, a x3 multiplier is added on the second cascading win and so on. On the fifth and subsequent cascading wins, prizes are multiplied x6. Once the chain of cascade wins stops, the multiplier will reset to x1.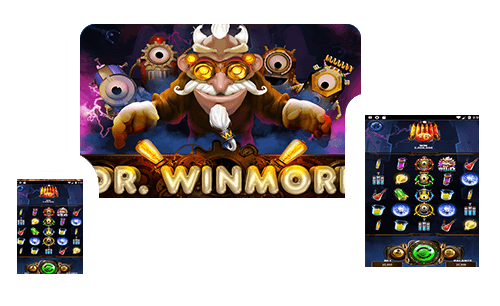 The Gears Are Set In Motion
Flashing bulbs and rotating gears are Dr. Winmore's speciality; follow him in this great cosmic adventure and you may come back loaded with a maximum prize worth 300 times your bet. This is a low-volatility machine which means wins will come at a steady pace and you will have plenty of reasons to keep the smile on your face all through the session. By taking advantage of free spins, multipliers and carefully designed robots, you will become the master of cascades and Dr. Winmore's favourite apprentice. RTG's Dr. Winmore slot will be available for real money play at Springbok on February 19th – praise the stars!
JACKPOT


Play Now
Join the hunt for our
R52,899,467.76
Jackpot!
Support


More Info
Curious? Compli-mentary? Plain gatvol? We're here to help!