Party at Springbok with New Popiñata from RTG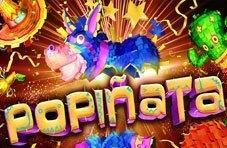 Using the colourful piñata as an inspiration for their new video slot, Realtime Gaming has developed a fun and vibrant 5 reel and 10 payline video slot called Popiñata. For those not familiar with this popular party trick, a piñata is a decorated container which is usually made out of papier-mâché and filled with candies and toys. Today, it's a popular form of entertainment taking place during various celebrations and festivities. The participants are blinded using a cloth, and then given a stick which they need to use to beat the piñata until it breaks and spills out the treats. While it can be tons of fun to try for real, RTG is now giving us an option to enjoy the game in a virtual world. So, how would you like to see the piñatas exploding to shower you with prizes?
Join the Piñata Slot Party
It's a warm night somewhere in Mexico, and a piñata party is taking place to the sounds of a cheerful mariachi tune. Creatively executed reel area displays colourful candy-full containers in various shapes hanging between two desert cactuses. The sombreros, fireworks rockets, guitars, beer bottles, and a few other party-themed symbols form winning combinations across 10 paylines or less, paying both ways. Each time they do, participating piñatas will explode and fireworks shoot through the winning payline. Any of the symbols can be replaced by a colorful Wild Donkey piñata which will, while replicating the exploding act, stretch to cover the entire reel. It will also award a re-spin, during which reels holding the extended Wilds will remain frozen. Get more Donkeys to join the party, and the reels will re-spin again.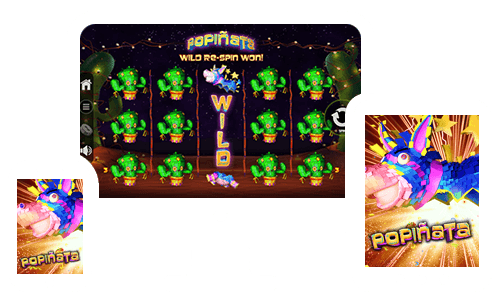 Did You Know This About Piñatas?
The piñata tradition is said to have originated in China, from where it has traveled to Europe sometime during the 14th century, and about 200 years later to Mexico where it became a kind of a religious ceremony. The beating of the piñata represented a symbolic battle against the temptations linked to 7 deadly sins. Since then, the tradition has more or less lost its religious significance, and is today used as a fun game ending up in candy showers which make the kids happy all around the world.
Piñatas Start Exploding at Springbok on April 19th
Joining this party could earn you as much as 250x your line bet, and the fun you'll be having while playing the new RTG game is surely worth just as much. If the catchy tune doesn't put you in a party mood, brightly coloured visuals and fun animations surely will. Everybody's invited, so put your party frocks on and visit us on April 19th. And while mixing with the other party-goers, keep an eye out for another new RTG release soon to enrich our library, The Perfect Pets. Piñatas will be released for our mobile casino, instant play and download casino.
JACKPOT


Play Now
Join the hunt for our
R52,899,467.76
Jackpot!
Support


More Info
Curious? Compli-mentary? Plain gatvol? We're here to help!