Monkeys, Bananas, Snakes and Leopards - Banana Jones is coming to Springbok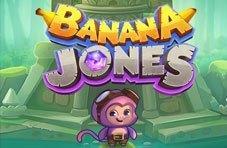 There are so many jungle stories to be told; after all, the jungle is a mysterious place with hidden riches, magical secrets and fascinating animals. Real Times Gaming has incorporated a bit of every mentioned element into its newest game called Banana Jones which will be added to the Springbok Casino's portfolio on August 1st 2018. Banana Jones is an expedition into the depths of the rainforest where the ancient temple guards the magical Crystal Banana. Stay with us - because onto the scene steps Banana Jones, an artefact seeker and an adventurist who happens to be a small pink monkey with plane pilot goggles.
You and Banana Jones will start making your way towards the temple, carefully stepping on the positions on the map and collecting rewarding symbols. The game is played with two dice, which means every time you throw the dice the outcome will be anything from 2 (snake eyes) to 12 (a pair of sixes). Banana Jones will then move according to the outcome of the dice roll (5 dice rolls are given per bet) and if he steps on the snake's head he will have to come down to its tail. On the other hand, if he steps on the end of the vine, he will climb up to its top.
Symbol Counters and Fruit Chests
How does Banana Jones pay? It's not a slot game, but it does have a paytable. You will see diamond symbols on the map, and each snake and vine along the way is also valuable. The more you collect the bigger the chances of filling up the counter on the left side of the map and getting the payout listed in the paytable. You need 5 diamonds for a payout and 3 vines, for example before the counter restarts.
The Treasure Wheel Feature and the Crystal Banana Quest are the main features in the game. They get triggered when Banana Jones reaches the Treasure Wheel position and the temple itself, respectively. In the Treasure Wheel round, the player spins the wheel and receives a cash prize. In the Crystal Banana Quest feature, the player will have a chance to pick a chest which contains a fruit (plum, apple, banana, grape or pear) which will then be added to the counter.
Banana Jones Knows to Pick His Payouts 
Who needs a progressive jackpot when there is a max reward of 2,565 times the bet to be won? Those are some serious numbers, especially if you crank up the bet values and take this tropical adventure to the next level. Springbok Casino will have Banana Jones by RTG on offer starting with August 1st - let the countdown begin!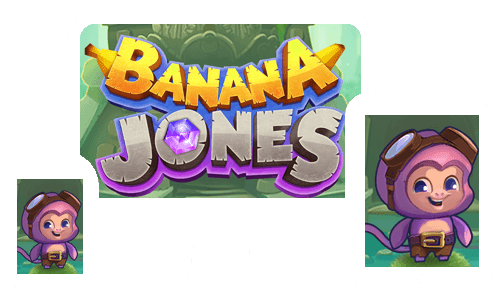 JACKPOT


Play Now
Join the hunt for our
R52,899,467.76
Jackpot!
Support


More Info
Curious? Compli-mentary? Plain gatvol? We're here to help!