Wu Zetian, the Female Emperor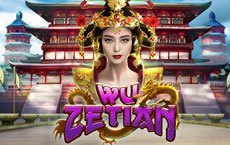 There is no way that Empress regnant of the Zhou Dynasty could have known that someday she will be the subject of an online slot. But she must have known that she will leave a deep imprint in Chinese history, as she was ambitious and ruthless. Known to have a heart of a serpent and a nature of a wolf, Wu Zatian was also known as Wu Zhao or Wu Hou. She was the concubine of Emperor Taizong, and after his death she became the wife of his ninth son, and successor, Emperor Gaozong. Primarily, she had the role of empress consort, but became administrator of the court after her husband suffered a stroke, and that position was seen as equal to the one of the emperor himself. She wore the yellow robe as a monarch and remains a controversial figure. Well educated, beautiful and intriguing, she was an excellent judge of men and, on top of that, politically astute.
In Wu Zetian, new Springbok Casino online slot, Empress Wu is depicted as a gorgeous woman in marvellous attire, and there are also symbols of important men in her life. Other icons in the paytable are items that she was likely to use or share presence with during her reign and most prosperous period – jewels, lanterns, gongs, jade statuettes and roses. You can also see a horse on the reels, probably Emperor Taizong's horse Lion Stallion. There is an anecdote that says that the horse was so big and strong that no one could tame it. Wu Zetian suggested whipping it with an iron whip, striking it with an iron hammer and, ultimately killing it with a dagger should it not submit. Supposedly, Emperor Taizong praised her bravery.
RTG's Wu Zetian is a 25-line slot game with 3 rows and 5 reels. The gong is the Scatter which delivers no payouts, as it only acts as a feature trigger. At least 3 Scatters will activate 5 free spins. During the freebies round 3, 4 or 5 reels will join and thus enable giant symbols to land and pay larger amounts. The pearl acts as a Wild; it only appears on reels 2, 3, 4 and 5, substituting regular icons. It can appear as a giant symbol, occupying a 3x4 cell space. All the other symbols can also land as giant icons during base game, in the following sizes on multiple reels: 1x1, 3x2, 3x3, 3x4, 3x5. All pays are formed left to right and the lines are fixed. The player can go for the Autoplay and set up the stake before hitting Spin.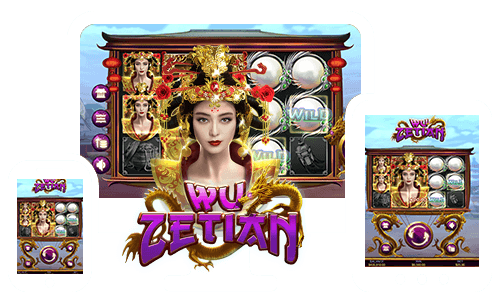 Feel the Power of the Legendary Wu Zetian
Intrigue and politics may not sound like elements of an attractive slot theme, but add a woman into the mix and things start to look more appealing. Wu Zetian is a beautifully designed and well executes video slot which doesn't have a jackpot, but counts on a 50,000 bet per line top award. It also offers unconventional gameplay with giant symbols and connecting reels. It has medium volatility and is completely mobile compatible. Play it at Springbok on January 16th!
JACKPOT


Play Now
Join the hunt for our
R52,899,467.76
Jackpot!
Support


More Info
Curious? Compli-mentary? Plain gatvol? We're here to help!