Springbok Launches Cubee, the Most Peculiar Game by RTG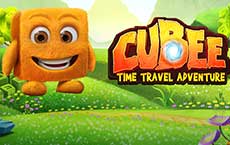 Cubee: The Time Travel Adventure is the latest creation by the good people at Real Time Gaming, and it has a rare "wow" factor that many modern slot-like casino games lack. Designed as a video gambling game that is based on a slot, Cubee is so much more. For one, the game takes you on a journey not only through space but also through time; it creates a virtual world that is immersive and intriguing.
The graphics, although described as childish, are incredibly sharp and visually impressive, not to mention that the whole interface is animated. Cubee almost looks like a PC game, but what sets it apart from the regular entertainment forms is the chance to wager real money on the outcome of each play.
You may have noticed that we've used the word "play", instead of "spin". That's because Cubee doesn't have any reels or rows filled with symbols. The thing that spins is a time vortex placed at the centre of the screen, and it works as the main source of symbols, or better yet items, which will come in contact with Cubee and hopefully rack up some wins. The game's paytable includes characters of Cubee's enemies that kind of look like bacteria from detergent commercials – of course, not that nasty! As they jump from the vortex and attack Cubee, he collects weapons to defeat them. You'll see bows and arrows, clubs, spades, cannons and axes coming from the portal as well.
Bring Cubee back home to Cubeeland
The players can adjust the bet and there is also an autoplay function, which is something regular online slots have. Cubee includes two additional meters, or progress bars, one that shows Cubee's strength level and one that indicates Rocco's health. Rocco is Cubee's arch-nemesis and if he manages to delete his health, he will advance to a new era. Remember, this is a time travel adventure. Therefore, Cubee will start at one age and period and end up in another. The gameplay starts in the Stone Age, moves to the Age of Piracy and then to the Viking Age. Each era is a separate challenge and as he goes through them, Cubee has the chance to eat up power balls and improve his strength, as well as collect items that will secure free games and multipliers in the final chapter, Cubeeland.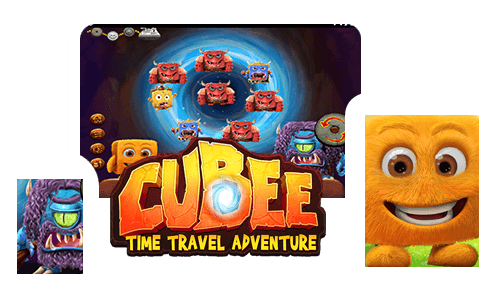 Floating Symbols
Should you manage to reach Cubee's homeland, you will be free from Rocco and his goons. In this level, you'll enjoy the increased chance of getting higher paying winning combinations out of the eight floating symbols coming from the time portal. Cubee's max payout is 50,000 times the bet per spin. If Cubee sounds too strange to believe, come to Springbok on February 13th and see for yourself how fun travel through time with Cubee can be!
JACKPOT


Play Now
Join the hunt for our
R52,899,467.76
Jackpot!
Support


More Info
Curious? Compli-mentary? Plain gatvol? We're here to help!