If You Want to Be Heard, Use Vuvuzela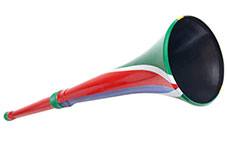 Fans of rival sports teams always tend to compete by trying to outcheer one another. If you've got a Vuvuzela handy, there's no question as to who will win this particular battle. Inspired by a kudu horn which was traditionally used to summon villagers for community meetings, this unique instrument is widely used at South African football matches, and as of 2009 FIFA Confederations Cup, it became equally popular with the global football community.
The invention of vuvuzela was claimed by one Freddie Saddam Maake, a South African fan that in 1965 produced an aluminium one out of a bicycle horn.  Freddie says he has coined the name by using Zulu words for "welcome", "unite" and "celebration". One thing is sure: if you want to be the loudest one at a stadium, there's no better tool than vuvuzela. You may want to consider using ear plugs, though, and warn those near you to do the same.