Emperors Palace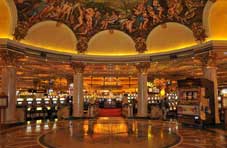 Operating under the slogan "The Palace of Dreams", Emperors Palace offers a stunning casino featuring Roman arches and hand painted murals, luxurious accommodation, finest dining options and great entertainment choices. The Casino is guaranteed to satisfy your every gaming need with a huge offering of slot machines and table games, the exclusive  Privé area, and a variety of promotional activities available no matter when you choose to visit.
Combined with an exceptional choice of restaurants and bars, and a range of activities and entertainment options available within or in the vicinity of the resort, staying at the Emperors Palace will easily become one of the experiences you'll never forget. 
The Casino
The Casino gives players a staggering choice of 1,724 slot machines and 67 table games, with slot denominations ranging from 1c to R500, and minimum bets of R5 on Roulette, R25 on Blackjack, R50 on Poker and R100 on Midi Punto Banco. Strategy cards and How-to-Play brochures are at hand to help you make the right calls, while cashless gaming eliminates queues and hassle.
The main casino provides 24-hour access to 850 slot machines with bets ranging from 1c to R5 on traditional slot machines, multi-line video slots and poker machines. In the non-smoking area you'll also find 8 American Roulette, 5 Blackjack, 2 Poker and 10 Hold'em Poker tables.
Smokers are provided with a dedicated glass-enclosed Velarium with 116 slot machines and 20 Roulette, Blackjack, Poker, Baccarat and Punto Banco tables. The 50c and R1 slots include classic games and video machines tokenised to 5c and 10c per credit. To make sure all their players get equal opportunity to win large jackpots, the Casino has linked all Red Eye Nickels progressives in the smoking and non-smoking areas. Playing any of 7 Red Eye Nickels machines gives you a chance to collect the biggest progressive jackpot in Africa, currently ready to cash out more than R9 million.
Exclusive high stakes Privé area comprises of the Slots Privé, an elegant lounge with 92 slot machines in denominations ranging from R1 to R500 and a variety of progressive jackpots,  Salon Privé featuring Blackjack, American Roulette and Poker tables, and the Garden Court Privé which offers Baccarat tables and provides players with an exquisite private dining experience. Emperors Palace is also home to WPT Golden Seat VIP, a 007 Casino Royale themed satellite tournament, and WPT Poker Classic  with a prize pool of over R10 million.
The Casino regularly organises various promotional activities, such as Wheel of Destiny which awards cash, cars, FreePlay and other prizes worth a total of R12 million, Forever Young draws taking place three times a week,  and Girls Night Out and Boys Night Out evenings which come with vouchers buying you FreePlay, movie tickets, access to one of girls' or boys' events and a chance to win a trip to Las Vegas. Emperors Palace additionally features Peermont Winners Circle, a rewards program with 4 tiers.  As you progress up the ladder, you'll become eligible for bigger and better rewards, discounts and benefits. One Bonus Point is awarded every time you play R500 on one of the slot machines, while table players qualify for upgrades based on average bet and time played. Peermont Winners Circle Black Card is an invitation-only elite club reserved for top players.
Dining and Bars
The resort provides endless dining possibilities. Aurelia's restaurant features a la carte menu with elements of molecular gastronomy combined with new-age Mediterranean and South African cuisines, a wide variety of malt and blended whiskies and a an impressive selection  of Cape wines. Ocean Bar is South Africa's favourite chain of seafood restaurants, Braza offers a taste of Portuguese life, and Col'Cacchio pizzeria is the place to go for a casual dining experience over Italian-inspired meals. At Platia you'll get to enjoy authentic Greek cuisine while being entertained by belly and Greek dancing, and Rosetta's features  classic buffet offering and value-for-money dining. Tribes is an African grill steakhouse which serves the best steaks, venison, lamb and traditional South African specialties, and Zen specialises in a fusion of Asian and Western cuisine and offers dining options such as Teppanyaki, Sushi, Dim Sum, seafood, curries, stir fry and more. News Cafe, a combination of a coffee bar, cocktail bar, restaurant and entertainment venue, has been voted the best Joburg cocktail bar for 17 years running. 
Entertainment
You'll find plenty of entertainment opportunities inside the Palace itself. Theatre of Marcellus features 17 tiered auditorium hosting both international and local acts, dance shows, musicals and plays, while Nu Metro offers a multi-sensory movie experience with 4DX ambient effects like wind, water spray, fog, scents, lightning and more. The unique CODESA (Convention for a Democratic South Africa) Walkway will take you on an awe-inspiring walk through South African history.
Step out of the Palace and you'll get a chance to play a round of golf at Kempton Park Golf Course, also known as the course where Ernie Els learned how to play. Alternatively go for a stroll through Deli and Arts & Crafts Market where a variety of vendor stalls offer fresh local produce such as baked goods, homemade jams, curries, samoosas and breyani.