Meropa Casino and Entertainment World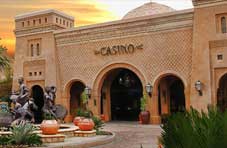 Set in the heart of the Limpopo province, only 5km from the capital Polokwane, Meropa Casino and Entertainment World offers an upmarket gaming experience in an intimate Moroccan setting charged with culture, legend and romance. The Casino is home to more than 400 slot machines, dozens of table games and an exclusive Privé area, and while it's open for business 24/7, there are also plenty of outdoor activities for the whole family to enjoy.
The Casino
Choosing among 417 slot machines from just 1c to R25, guests will easily find the game which fits their tastes as well as their budgets. Tables are open from 11:00 every day, offering Blackjack and American Roulette with bets ranging from R5 to R50. Platinum and Diamond MVG cardholders will be offered an exclusive gaming experience at KIBA Salon Privè which features private entrance, dedicated parking area, an elegant lounge and personal waiters. Main floor highlight is the exclusive Poker Lounge hosting Texas Hold 'em tournaments during the weekends.
Whenever you choose to visit, there will be more than one promotional offer to take advantage of. Currently active Teka Teka is open to all MVG cardholders and comes with prizes such as cars, cash and Sun Xtra play worth more than R1 million. U-Spin Fever offers a chance to take a share of R30,000 in Sun Xtra Play every single day, and it takes only 5 points earned on any slot machine to qualify for a spin of the wheel. 
Dining and Bars
The Meropa Casino and Entertainment World features large enough offer of bars and restaurants to please everyone's taste buds. Harvest Charcoal Grill is a la carte grill house with a selection of fine red meat, seafood, salads and veggie dishes, good wine list and a kid's menu. One can alternatively indulge in traditional cuisine at Jembe Tavern which serves authentic African meals, or grab a quick snack at Wild Thingz Café set in the heart of the tranquil bird and reptile park. 
Entertainment
Take your family for a round on open-air go-kart tracks, have fun with a wide range of computer, arcade and simulation games at the Magic Company arcade, or play a couple of holes on the Mini Golf course. We'd also recommend that you visit Wild Thingz, a fascinating bird and reptile park situated within the Meropa Casino and Entertainment World complex. It will provide an opportunity to see  brightly coloured birds, butterflies and peacocks, walk through aquariums housing snakes and lizards, and marvel at pools which are home to crocodiles, anacondas and pythons.
Opting to visit the Ranch Conservancy, a lion and hyena park with more than 20 species of endangered antelope, you'll be able to watch lion cubs play, go off on a horseback safari or take a game drive. Those looking for a more relaxing family activity should take a stroll through the Farmyard Trading Post, sip coffee on the colonial verandah, check out its stalls and shops for an array of organic farm produce, and bargain over a piece of crafted goods, jewellery or antiques. If you want something even more relaxing, treat yourself to a luxurious spa treatment at Mangwanani Spa. 
Every Wednesday Meropa hosts some of the well-known comedians in South Africa, and every Friday and Saturday local DJs do what they do best on the decks of Jembe.