The Wonderful World of Online Slots
A slot machine, also known as a fruit machine in the UK, puggy in Scotland, and pokie in Australia, is a gambling machine with three or more reels which will spin when the player pushes a button and as a result hopefully receives a reward. The very first machine of this kind was created in New York in 1891. It contained five drums with 50 cards, spun when players inserted a nickel and pulled a lever. Instead of cash, winners would receive free beer or cigars. Not long after, Mr Charles Fey came up with a simpler mechanism and introduced 3 reels with 5 symbols which any of the today's slots fan would recognise – a horseshoe, a bell, diamonds, spades and hearts.
Slots have gone a long way since those early days. The first big development came in the form of video slots which have disposed of physical reels and added second screen bonus rounds. Towards the end of 20th century, the Internet made it possible to play slot games from the comfort of our own homes. Online slots were born!
R250 Free Casino Bonus to test our Online Slots right away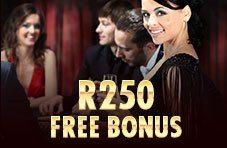 Use Coupon Code "TEST-SPRINGBOK" – and enjoy R250 totally for free to check out our casino.
How to get your bonus:
Register a Real Monday Account
Go into the Cashier
Redeem Coupon Code TEST-SPRINGBOK
Enjoy your Free Play.
Please note: The Maximum payout is R500. Terms & Conditions apply.
Online Slots vs One-armed Bandits
Slot machines were once called one-armed bandits because they were operated by a single lever positioned on the side of the machine, as well as for their ability to leave players without a penny in their pockets. In order to play, one had to go out and visit a gambling establishment and could only do so during its opening hours.
Online slots are available 24/7 and can be played wherever one chooses. Players can take a break and go grab a lunch, knowing their favourite game will be waiting until they were ready for a few more spins. Slots are now accessible via desktops and laptops, either online or through downloadable software, but also on mobile devices. These days having an iPhone or an Android smartphone means you can literary play no matter where you happen to be.
The choice of games has become mind blowing. Instead of several, or at best a hundred or so machines available at the largest land-based casinos, the offering of online slots counts thousands of different titles. Whatever your preference in terms of denominations, themes and bonus rounds, you can find your ideal game online in a matter of minutes.
Online slots are generally offered with a free-play option, which is yet another great benefit. In the old days, you had to invest a certain amount of cash in order to try the game out. Before you could decide whether you liked it or not, your money could be spent. Not anymore! Springbok and other online casinos make it possible to do your trial with fun credits. You can spin the reels as long as it takes to get familiar with the game, and only then start wagering real cash.
Last but not least, the gaming experience has vastly improved. Online slots are light years away from their land-based counterparts in terms of visual appearance, plus they offer a bigger choice and more diverse special features.
Popularity of online slots has gone sky-high and continues rising. There's no doubt that, as technology progresses, they'll keep developing in ways we might find as difficult to imagine as it would have been for Charles Frey to envision the future of his Liberty Bell. We're eager to see what comes next; what about you?