Springbok Casino celebrates unusual animal friendships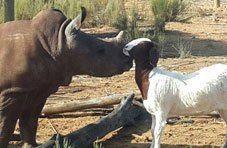 November is Animal Friendship Month at South Africa's Springbok Casino. This month, the casino is helping to create awareness of the dangers so many animals face from poaching. It's sharing some heart warming stories about unusual animal friendships that have evolved when baby animals, orphaned by poachers, are rescued.
On the Springbok Animal Friendships blog, there's a story about a little Rhino called Osita and how she became best of friends with a goat named Bokkie. Abandoned by her mother, baby Osita grew up with Bokkie at the Aquila Animal Rescue Centre. Then there's the young giraffe Kiko and little elephant Loboito. Rescued from the wilds, they were in danger of poachers but are now in the good hands of the David Sheldrick Wildlife Trust caretakers. Themba, a baby elephant, was only six months when his mother fell off a cliff and died. At the Shamwari Wildlife Rehabilitation Centre he has become inseparable from his friend Albert, a sheep.
These and other stories are available in Springbok's web page dedicated to the rescue organizations that save so many victims of poaching.
"We know how special our amazing wildlife is," said SpringBok manager Daniel van Wyck.
"We are blessed to be sharing our country with so many incredible animals. It sickens me to think that poachers are driving some endangered species into extinction. I'm so thankful for the organizations we've featured in our stories."
This month, players can use the Animal Friendships coupon code to claim 25 free spins on Springbok's six-reel Super 6 Asian-themed slot with grouped wilds.
25 free spins on Super 6 Slot
Coupon Code: FRIENDSHIPS
Valid until 30 November
Springbok Casino, where customer service is offered in both English and Afrikaans, has hundreds of online slots and table games from Realtime Gaming (RTG), all played in Rands. Its most popular games are also available in its mobile casino for smartphones and tablets.