Springbok Casino Celebrates Dolphin Awareness Month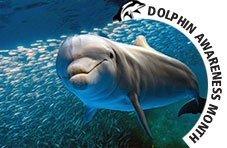 March 1, 2018, Johannesburg, South Africa (Press Release) – March is Dolphin Awareness Month and Springbok Casino joins worldwide efforts to support these beautiful, highly intelligent marine mammals. The South African online casino has compiled a selection of stories and videos with interesting and fun facts about these graceful, friendly and playful animals.
"We have three types of Dolphins in our South African oceans. This is the second time we've paid tribute to them," said Daniel van Wyck, the manager of South Africa's most popular online casino.  "They're such wonderful creatures, and they're so threatened by commercial fishing and pollution that we thought they deserved our support."
One video in Springbok's tribute shows how altruistic these amazing animals can be.  All it takes is for them to notice another living being is in trouble and dolphins will rush over to help
Another video shows that Dolphins enjoy getting a little high sometimes, using the toxin of puffer fishes. They carefully chew on the puffer and even pass it around to their friends.
Dolphins are skilful athletes but, as another video shows, Spinner Dolphins in particular can perform some astounding spinning jumps.
Dolphins and cats may seem like strange playmates, but a heartwarming video in the Springbok collection shows a tiny kitten and a playful Dolphin enjoying each other's company.
The collection of stories and videos can be found at https://www.springbokcasino.co.za/dolphins.
This month Springbok is giving players free spins on its new Viking-themed Asgard slot game.
DOLPHIN AWARENESS MONTH CASINO BONUS
25 Free Spins on Asgard slot
Coupon Code: LOVE-DOLPHINS
Available until March 31, 2018