Whale Sharks – the world largest fish in the ocean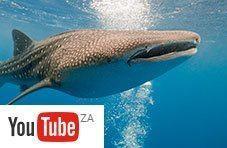 Whale sharks are the biggest species of sharks and also the biggest fish in the ocean. Those gentle giants feeds on the tiniest creatures … plankton. Whale sharks can weight up to 34 tons.
Fun Fact: A whale shark birth have never been seen so far. Also mating or pupping have been seen as well.
Whale sharks are gentle, harmless and very photogenic. If you are that lucky to spot a whale shark in the ocean behave as gentle as they are.
Three things that are as big a whale shark: A basketball court, a school bus, T-Rex dinosaur
Watch this amazing video of swimming with whale sharks