Online Payment Options for Online Casinos: SID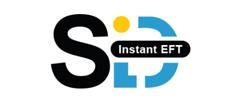 Knowing how passionate South Africans are about playing casino games, it's not that surprising to find payment service providers catering specifically to this group. SID is South Africa's original, completely secure Instant EFT solution. It facilitates online payments by transferring funds between bank accounts, allowing you to make a purchase without a credit card. SID is supported by major SA banks, such as FNB, ABSA, Standard Bank and Nedbank, and available on hundreds of SA e-commerce websites, including reputable online casinos such as Springbok.
About SID
SID is a Setcom company founded in 1998. With an extensive experience in processing online payments, the company offers innovative payment solutions such as SID Instant EFT which was launched in 2007. This product allows you to make instant online payments through your existing Internet banking, and as all Setcom products, it was created with end user in mind – simple, intuitive and user-friendly.
Security is one of their main concerns, as it must be yours. But not worry, that's been well taken care of. Since you're using your Internet banking, the bank's strict security measures will protect your money and personal information every step of the way. On top, SID is being independently monitored by third-party security certification specialists, keeps all sensitive data safe by not storing your internet banking login details, and offers clients 100% protection against unauthorised payments up to R10,000. Thanks to all this, the company boasts a record of zero security breaches since the service was first launched.
Research shows that one in four South African online shoppers use mobile device to do their online purchases, which is why SID Instant EFT has been designed to enable payments via all devices, smartphones and tablets included. 
How to Use SID
The only requirement to be able to use SID is to be owner of a bank account. There is no sign-up process, and no interim accounts to be opened and pre-funded; transactions take place between your bank and the e-merchant directly. When ready to make a deposit at an online casino, you'll be guided through a simple process: having selected SID payment option among those offered, and the amount you wish to send, you'll be redirected to SID Instant EFT platform. The standard internet banking procedure follows: logging in, selecting the account you wish to pay from, and entering a one-time PIN received from your bank. Once done, you'll be directed back to the gaming site and start playing in no time. SID also facilitates withdrawals, though you may have to wait for a couple of days for the funds to reach your bank account.
Since SID Instant EFT was created by South Africans for South Africans, it will allow you to make transactions in ZAR. Another piece of good news is that while the merchant pays a small transaction fee, SID will not charge you at all. 
Benefits and Limitations of SID
SID is an extremely easy-to-use payment option which presents a great alternative to credit card payments. Not all of us possess one, after all, but why should that be a limiting factor when looking to play casino games for real money? SID Instant EFT is renowned as one of SA's most trusted and secure online payment options, allowing you to engage in your favourite gaming activity with a complete piece of mind.
There's really only one limitation to this payment service – you've got to have a bank account. If, for whatever reason, this presents an issue, check other payment options offered at Springbok; we've made sure you can find at least one which will fit your needs to a T.