Online Payment Options for Online Casinos: Skrill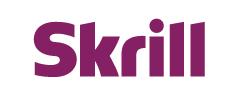 Along with Neteller, Skrill is one of the most widely accepted payment options among online gamers pretty much everywhere. This online wallet allows you to send and receive money in close to 200 countries and 40 currencies with only your email address and password. Millions of your fellow gamers are using it on regular basis as it allows simple, secure and cost-effective transactions.
About Skrill
Skrill was initially launched in 2001 under the name of Moneybookers, only to be re-branded in 2010 with an attempt to further improve and extend the Moneybookers global payment network. The following year, having made Payolution part of the Skrill Group, Skrill expands its portfolio by Pay by Invoice and Pay by Instalments. In 2012 the company launches Skrill 1-Tap, a single-click payment platform enabling mobile-friendly transactions, and within next 2 years acquires Paysafecard and Ukash to  strengthen its position in Europe's prepaid online market. Today they've got offices across Europe and the US, employing more than 500 people of over 30 different nationalities.
Skrill is nowadays accepted at all major bookmakers, casinos and poker rooms, letting you play without revealing your personal payment information. You'll be able to make instant deposits and receive money directly in your bank account, mobile wallet or Skrill wallet. Cash which has been sent to you will arrive immediately and instantly be available for withdrawal. A member can also get hold of a Skrill Prepaid MasterCard and use it to pay online and withdraw cash at ATMs.
Actively using this payment option opens the door to Skrill VIP club featuring benefits such as lower fees, higher limits on your transactions, 24/7 support, exclusive promotions, and "100% money back" guarantee offering complete fraud protection with Skrill security token.
Talking of security, apart from protecting access to your account with username and password, Skrill also offers extra layers of security via PIN Authentication and Two Factor Authentication.  Your payments and personal information are kept safe at all times, and every transaction protected by the company's anti-fraud team. Being registered with the U.S. Department of Treasure's Financial Crimes Enforcement Network means the company has to comply with extremely stringent payment services regulations. 
How to Use Skrill
It takes no more than a few minutes to create a Skrill wallet; you'll need to sign up, register a way to pay, verify your account and load cash. Once that's done, you'll be able to log in anytime with your username and password. One can upload funds via credit and debit cards such as Visa, MasterCard, Maestro, Diners, American Express and JCB, but also via Bank Transfer and Fast Bank Transfer, Trustly, Neteller, Bitcoin, Paysafecard, and quite a few other payment options.  Your Skrill Account is completely free as long as you login or make a transaction at least once a year.
If you wish to gamble at Springbok or another online casino, you'll simply need to select Skrill from the list of available payment methods, enter the same e-mail address as used for creating your Skrill account,  select the currency and the amount you wish to deposit or withdraw.  Cashing in your winnings will always be free of charge, while sending money will cost you 1.9% with the charge capped at €20.
Benefits and Limitations of Skrill
Skrill is simple, fast and convenient; transactions are done with nothing more than an email address or mobile number, money arrives quickly and can be collected in a number of different ways. Instant money transfers will allow you to start playing your favourite casino games in no time and collect the resulting winnings almost just as fast. Safety is ensured by top notch security measures and your personal details always remain private from the casino as well as the malicious hackers.
There are no significant disadvantages we can think of. There might be some fees involved, but those are (for the time being) kept at a very reasonable level. You may find that some gaming sites limit access to match bonuses for deposits made with Skrill and Neteller, so just make sure to read Terms & Conditions before selecting where to play and how to pay.