Brazil - our players favorite team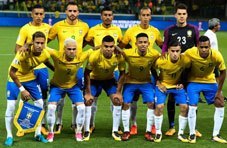 In the world of soccer, Brazil is almost synonymous with the game. Soccer is the most popular sport in the country by far and there hasn't been a World Cup competition in which the Verde-Amarela team wasn't considered one of the favourites. In Brazil, soccer is more than a sport - for many it is a way of life. Soccer is played on playing fields across country, but also on the streets and beaches.
Professional Brazilian players are known to be agile and creative when it comes to handling the ball. The team is choreographed and plays an entertaining game that is beautiful to watch. Throughout the world, there are more than 10,000 Brazilian sportsmen playing professional soccer.
3 Facts about the Team History
Early Years: The first Brazilian national football team was assembled in 1914 and the squad's early performances were rather poor. Between 1922 and 1949, the team experienced a period of 27 years without a major title. The streak ended when Brazil won the 1949 South American Championships.
Golden Age: From 1958 to 1970 Pelé played for the Brazilian team and this period is known as the Golden Era. During this time the squad won the World Cup three times - in 1958 in Sweden, in 1962 in Chile and in 1970 in Mexico. Brazil was the first ever team to boast such an achievement. Edson Arantes do Nascimento, known as Pelé, started playing for the national soccer team at age 16. He became a living legend, an icon of the sport, and is regarded by many as the greatest soccer player of all time. He is also the all-time leading goalscorer for Brazil with 77 goals in 92 matches.
FIFA World Cup Track Record: Brazil is the only national team to qualify for every single World Cup finals since the inception of the tournament. They have never required a qualifying play-off. Brazil has also won the World Cup more than any other national team with five titles in total. It's not unusual for employees in Brazil to take time off from work in order to watch important World Cup matches when the country's national team is playing.
3 Fun Facts about the Country
The country's capital: Contrary to popular belief that Brazil's capital is Rio de Janeiro, it is actually Brasilia. Rio de Janeiro was the capital for 197 years before Brasilia. The new capital took 41 months to build, from 1956 to 1960 and it was a pre-planned city. From above, Brazil's capital looks like an aeroplane and it was planned and developed by Lúcio Costa and Oscar Niemeyer. The modernist architecture and uniquely artistic urban planning of Brasilia led to the city being designated by UNESCO as a 'Historic and Cultural Patrimony of Humanity' in 1987.
Favelas: The outskirts of Rio de Janeiro and São Paulo are low-income historically informal urban area, or, in other words, shantytown areas which have become popular tourist attractions. Regular tours are being carried out, and some of them are known to be visited by showbiz stars such as Michael Jackson, Madonna and Beyoncé.
Amazon rainforest: The Brazilian Amazon is the home to the largest number of un-contacted tribes in any destination in the world. The presence of as much as 67 tribes has been confirmed which have no contact with the outside world whatsoever.