Iceland - let the surprise continue
Details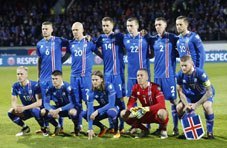 It wasn't until the 2010s the Icelandic national team has enjoyed success on an international level. Before that, the squad wasn't listed among the top 100 in the FIFA World Rankings. The team is nicknamed Strákarnir Okkar (Our Boys) and they've risen to unheard-of success despite many challenges in terms of climate and limited population. Soccer players are unable to train outdoors year-round due to freezing temperatures, so special facilities were built Keflavík with full-sized pitches and outdoor artificial pitches. Iceland also invested in training of coaches, which elevated the soccer status in the country to a higher level.
Icelandic players are known as patient and hard-working, true warriors with a fighting spirit. The current team is described as a fiercely united squad by many. The interesting thing about Icelandic soccer players is that they don't play for any world-famous clubs when they're not playing for the national team.
3 Facts about the Team History
Major Competitions: The very first time the national soccer team of Iceland qualified for a large international competition was the 2016 UEFA European Championship, and the Our Boys squad reached the quarterfinals stage by defeating England, a huge embarrassment for the Three Lions, but then they lost to France, the host nation that year. Around 30,000 Iceland fans travelled to France for Euro 2016 to support their national team, which is a tenth of the country's entire population. Their second largest achievement since that is qualifying for the 2018 FIFA World Cup. This is the first ever appearance in the world championship for the Icelandic team. By entering the FIFA World Cup finals 2018, Iceland became the smallest nation to ever reach the World Cup. The overall population of Iceland is a little over 330,000 and they have around 21,500 registered players.
Top 3 Players: Iceland's top players are Rúnar Kristinsson with 104 caps (most caps 1987–2004), Hermann Hreiðarsson with 89 caps as a defender and Eiður Guðjohnsen as the best goalscorer with 28 goals in 88 appearances. Eiður Guðjohnsen is son of Arnór Guðjohnsen who also played for the national team and scored 14 goals in 73 appearances. The father and son played in the same match when Eiður, then 17, entered as a substitute for his father Arnór, then 34, in a friendly against Estonia in 1996. Never have a father and son played in the same international match before.
Dentist Manager: Heimir Hallgrimsson, the coach of the Icelandic soccer team is a practicing dentist. He is the first Icelandic coach to earn an A license and he joined the team in 2011. Traditionally, Hallgrimsson meets with soccer supporters at a pub in Reykjavik and discuses team's line-up and tactics with them before home matches.
3 Fun Facts about the Country
Land of Ice and Fire: It's not for nothing that Iceland is called the Land of Ice and Fire - most of the country is formed by the phenomena of volcanoes and glaciers. There are more than 125 volcanic mountains in Iceland, and every 4 years an eruption is expected from one of a handful of active volcanoes. A huge portion of Iceland is covered in lava fields, whereas the other huge portion is covered in glaciers.
First Name Country: Icelanders have a first-name system and their surnames merely mention the fact that one is the son of so-and-so. They disregard the concept of family names. Even in formal meetings, they use first names and are listed in the phonebook by first names. It's the traditional Nordic naming system.
Unique Language: The Icelandic language remained preserved from ancient Norse. Texts that are several centuries old can be easily read by modern Icelanders.