The Kruger National Park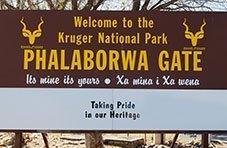 The largest game reserve in South Africa, Kruger National Park is home to the magnificent Big Five and many other wild animals. It was established as far back as 1926 and is visited by millions each year. The Park covers an area of nearly 20,000 square kilometres, with Limpopo province to the west and Mpumalanga on the south, the rivers Limpopo and Crocodile acting as its natural borders.
On the eastern side, Lebombo Mountains create a boundary towards Mozambique. Enjoying subtropical climate, the Park sees the exchange of hot and humid summer days with rains which transform it into a lavish flowering paradise, and dry days and cold nights of the winter months.
The Incredible Diversity
Visiting the far north region of Kruger Park, you get to enjoy sightings of rare birds and tropical fish such as rainbow killifish which is unique to this area. Likewise, this is the only place where you can see the Natal red hare and yellow-spotted hyrax. Numerous other wondrous creatures inhabit this area, such as the knocking sand frog which was discovered only in 1970's, Sharpe's grysbok, a shy antelope which will speedily retreat when spotting anything unusual, the endangered wild dog and samango monkeys known for their harem social structure. If you were to take a stroll during the night, perhaps you'd get to enjoy the sight of nocturnal bushpigs exercising their superb swimming skills.
Moving a bit to the south, five rivers give life to distinctive vegetation in the form of the majestic nyala tree which can grow to a height of 30 meters, the sycamore fig providing sweet-tasting fruit, the tamboti which is also known as Jumping Bean Tree, and the tall apple leaf. This is where you'll find about 60% of the Park's hippo population as well as elephants, buffalos, bushbucks and impalas, quenching their thirst at one of the waterholes.
Valleys in the southern area of Kruger National Park are home to trees you're not likely to see elsewhere. The Cape chestnut produces a spectacular display of pink flowers, flaming coral tree gives birth to  stunning red blossoms, and lavender fever berry features pleasantly aromatic branches which were once used to make perfume. This is an area where you're likely to see baboons, klipspringer, white rhino and potentially a leopard. Kruger Park Central Region hosts almost 50% of its lion population, as well as hyenas, cheetahs, antelopes, giraffes, zebras and buffalos.
Experience Africa at its Most Wild
The Kruger National Park is a wildlife sanctuary like no other, with a unique atmosphere and a chance to experience the endless wilderness which is so true to Africa. This remarkable reserve is home to no less than 517 species of birds, including those known as the Big Six Birds. One of them is Pel's fishing owl, the largest owl species in the world which is also an expert fisherman.
The Park is divided in as many as six ecosystems and inhabited by more than 100 species of reptiles, such as the venomous black mamba, African rock python and a large population of crocodiles. The Big Five are joined by Burchell's zebra, spotted hyena, kudu, Blue wildebeest and many other mammals which make this their home. Nothing can beat the experience of seeing them live, but you can still enjoy the sight thanks to webcams set up to observe the wildlife.

Vast, unpredictable and magnificent, Kruger National Park well deserves its place among the most beautiful things South African has to offer. If you get a chance to become a part of it, for however short it might be, you'll truly be able to say you've experienced Africa at its most wild.