Fantastic Cape Town - Mother City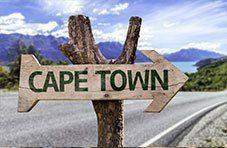 Affectionately called the Mother City, Cape Town was voted the best global city in 2013, and in 2014 named the best place in the world to visit – according to the British Daily Telegraph and American New York Times. Famous for its harbour, fabulous landscapes, mix of cultures, biodiversity and much, much more, Cape Town or Kaapstad is the most popular international tourist destination not only in South Africa, but Africa as a whole.
The region enjoys Mediterranean climate and features extensive coastline, jagged mountain ranges, coastal flatlands and inland valleys. Diversity of landscapes is mirrored by a wonderful mix of cultures and cuisines, making Cape Town a truly unique experience. It's hard to do it justice only with words, but we'll do our best to convey why the Mother City is adored by South Africans and people from every other place on Earth.
A Beautiful City Bubbling with Activity
Set in the Cape Floristic Region, Kaapstad is known for its landmarks – the Table Mountain and Cape Point. Overlooking the Mother City, the magnificent Table Mountain takes away our breaths with its nearly vertical cliffs and the beautiful Kirstenbosch Botanical Gardens positioned on its eastern side. Known as Cape Town's Rivera, the Atlantic seaboard is considered to be one of the most scenic routes in South Africa, and the beaches set against the dramatic backdrop of the Cape Fold Mountain range, the most scenic beaches in the world. Adorned with white sand and washed by crystal clear water, they run as far as the eye can see.
The Cape Flats area situated to the north of the city is one of Cape Town's most colourful and creative places. Picturesque Constantia valley is well known for its wine farms and Cape Dutch architecture. Cape Dutch style buildings are part of our architectural heritage, combining the traditions of the Netherlands, Indonesia, France and Germany.
Always bubbling with activity, the city is hosting many major sports events, such as the Cape Town Cycle Tour which sees more than 35,000 participants cycling along a 109 km route around Cape Town. The Mother City is also a surfers' paradise, being able to offer great surfing conditions practically all year round thanks to its unique position. Numerous hiking trails are enjoyed by many who visit the majestic Table Mountain to experience its rich and unique flora, rugged cliffs, dizzying slopes and sandy flats.
As much as Capetonians love sports and outdoor activities, they also love music and dancing, as demonstrated during many festivities taking place at different times of the year. The annual Minstrel Carnival, Kaapse Klopse, is their way to celebrate the Second New Year on 2nd January,  with teams of minstrels parading in brightly coloured costumes to the tunes of Cape Jazz. The city has also been a host to the International Jazz Festival, the largest music event in sub-Saharan Africa, for almost 20 years.
The Wonderful Nature Full of Life
The city of Cape Town boasts one of the highest levels of biodiversity, with about 2,200 species of plants which are endemic to Table Mountain and can't be found anywhere else. Kirstenbosch National Botanical Garden contains protected natural forest and shrubland, is home to a variety of animals and cultivates over 7,000 species, many of which are rare and threatened. Consequently, this region was  declared a UNESCO World Heritage Site in 2004. Seeing massive areas covered in flowers blooming during the season in Western Cape reserves, is a truly spectacular sight.

Cape Town beaches are frequented not only by locals and tourists, but wild animals as well. Boulders Beach is home to a colony of African penguins, and during the breeding season one can catch a glimpse of southern right whales and humpback whales. Heaviside's dolphins can be seen from the coast north of Cape Town, and any time of the year one can also spot Bryde's whales and killer whale.
Nature has clearly been very generous to the Mother City, gracing it with such a diversity of landscapes and life. Being able to spend even a limited amount of time in this unique environment is bound to leave you feeling blessed. Among many wonderful memories you'll surely take away are the spectacular sunsets Cape Town is known for. Display of colours produced by the setting sun is indeed a jaw-dropping sight. In fact, speechless is what you're likely to be from the moment you enter this wonderful, wonderful city. We love you, Cape Town!