Enjoy Garden Route in South Africa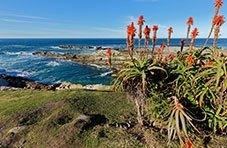 Our tour of the breathtaking South Africa next takes us to Garden Route, a seductive proposition of the glorious natural beauty stretching over 200 km between the Eastern and Western Cape. Stunning scenery meets your eye as you drive down this magnificent piece of coastline, forested mountains following white-sand beaches, and stretches of wetlands giving space to picturesque little towns. The Route got its name thanks to the area's diverse vegetation and numerous lakes and lagoons.
The Beauty of the Nature
Garden Route lies between the Indian Ocean on one side and Outeniqua and Tsitsikamma Mountains on the other. Dressed in indigenous forests, the mountains display a fascinating mix of Cape fynbos and temperate forest, providing a home to almost 300 bird species.
Area's varied ecosystems are proudly presented within ten nature reserves, together with marine reserves which house dolphins, seals and other marine life. Bays along the Route provide nurseries for  the endangered Southern Right Whale. The Crags is home to several wildlife sanctuaries, offering you a chance to observe elephants, watch the monkeys swing on the overhanging branches and visit the world's biggest free-flight aviary, Birds of Eden.

The Garden Route National Park hides secluded little bays and connects the Tsitsikamma Park with the Wilderness Park via a chain of lakes and sections of fynbos. Tsitsikamma National Park which surrounds Storms River Village is a famous coastal reserve established to protect the remaining indigenous forest.  Crossing a swaying suspension bridge over a gaping ravine provides a singularly unique experience, as does taking a canopy tour high up in the forest's treetops.
A hike or a paddle along the river within the Keurbooms River Nature Reserve gives you a chance to encounter forest and water birds, such as the endemic Knysna Louries. This beautiful creature sports a tall green crest tipped with white and produces a loud kow-kow-kow-kow call. Knysna Louries is thought to use its red wing feathers to distract predators, lending and folding its wings to reveal and hide this attention-grabbing colour and consequently escape unseen. You'll recognise the colourful Malachite Kingfishers by the bright metallic blue of its upper body and a short crest of black and blue feathers on its head. This little fisherman flies low above the water, hunting for small fish and insects; as it moves its wings very fast, it can appear a mere blue and orange blur floating close to surface.
Picturesque Towns and Villages
Stretching between Mossel Bay in the Western Cape to the Storms River on the east, Garden Route includes towns such as Knysna, George, Plettenberg Bay, Mossel Bay and Little Brak River.
Plettenberg Bay, originally named by early Portuguese explorers Bahia Formosa, meaning "beautiful bay", is home to one of the largest seagull breeding colonies, Cape fur seal colony and a seasonal penguin colony. Great white sharks, Southern right whales, Bryde's whales, Humpback whales and even killer whales, are a pretty common sight in the area. The Bay also boasts three species of dolphins and many pelagic birds, such as the endangered African oystercatcher. This large and noisy wader feeds on mussels and limpets and is adapted for opening the shells and loosening them off the rocks. Pansy shell used as the symbol of Plettenberg Bay is a flower-shaped sea shell endemic to this part of the coast.
George is the 6th oldest town in South Africa with many historical landmarks. Knysna features a tranquil lagoon separated from the pounding Indian Ocean by sandstone cliffs. Mountains to the north of Mossel Bay are a repository of South African rock art, associated with shamanistic practices. The Cape St Blaize Cave is the site of one of South Africa's oldest archaeological excavations, having revealed deposits dating from 200,000 years ago. Situated at the mouth of the Little Brak River, the town bearing the same name is a peaceful little heaven, with a river teeming with fish and a rich birdlife.

A massive mountain range separates the flourishing coastline of Garden Route and the bare interior of the Little Karoo. Taking advantage of a mountain pass,  you'll arrive to Oudtshoorn , South Africa's ostrich capital. There you can learn all there is to know about these extraordinary birds, or visit the underground labyrinth of Cango Caves to admire its narrow stone passages and stalactite-rich vast caverns.
Garden Route and the surrounding area offer such an abundance of natural treasures, it's difficult to single anything out. If you're fortunate enough to spend some time in South Africa, make sure you put it on your must-see list; we promise you'll get seduced by the glorious beauties of its nature.