Durban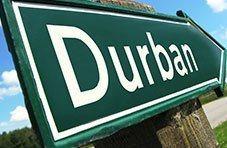 Durban is our next stop on the South African marvels tour. The largest city in the province of KwaZulu-Natal, Durban is also the most populated urban area after Johannesburg and Cape Town. In 2015, it joined Havana, La Paz, Vigan, Beirut, Doha and Kuala Lumpur, having been named one of the New 7 Wonders Cities.
The Zulu Experience
When in 1824 a British Lieutenant Farewell arrived to establish a settlement in Bay of Natal, one of his men, Henry Francis Fynn, treated and consequently befriended the Zulu King Shaka, who in turn granted Flynn a 50 km by 160 km strip of coast. Some years later, a decision was made to build a capital on Flynn's territory and the city was named after the governor of Cape Colony, Sir Benjamin d'Urban.
Today, Durban is a point of access to national parks and historic sites of Zulu Kingdom. Its culturally diverse population includes the Zulus, people of British descent and Indians – more of the latter than in any of the other cities outside of India. The result is a cultural richness which delivers a fascinating mix of beliefs and traditions.

To get a taste of 'the greatest Zulu experience in Africa', you may want to pay a visit to Shakaland. The replication of a Zulu homestead  provides a unique opportunity to participate in traditional Zulu ceremonies, learn their customs and enjoy the energetic Zulu dancing. Visiting this unique resort, you'll also get to consult with a spiritual leader who is believed to communicate with ancestors, and an inyanga, a  traditional herbalist.
Numerous Beauties of National Parks
The Durban Botanic Gardens are the oldest botanical gardens in Africa and contain an extensive cycads collection. Section called the "Fern Dell" houses many local and exotic fern species, and the Ernest Thorp Orchid House boasts more than 9,000 plants which bloom in spring and autumn. Outside of their flowering season, bromeliads add color to the orchid house.
Created by a group of bird lovers, Umgeni River Bird Park is home to more than 4,500 birds of no less than 400 different species. Walking past numerous aviaries, you can take a peek into a nursery and watch the birds get hatched and raised.
Burman Bush is a nature reserve populated by flat-crowns, magnificent shade trees loved equally by elephants and butterflies,  the forest fever-berry, and beautiful red beech bearing plum-like fruit. Much of the Burman Bush fauna is represented by the elusive species such as a small antelope called the blue duiker, rodent-eating slender mongoose, and black-faced vervet monkeys dressed in grey and demonstrating many human-like characteristics.
Overlooking Durban Bay and boasting high levels of biodiversity, Pigeon Valley Nature reserve was created to protect the Natal elm. The Hawaan Forest grows on an 18,000 year old dune and is the last of its kind. The Forest is home to a variety of wildlife, including the graceful bushbuck, red and blue duiker, social bushpig, powerful crowned eagle, and the nonvenomous African rock python which is Africa's largest snake.  Featuring a walk-through aviary and a snake display, New Germany Nature Reserve is a protected grassland and forest area inhabited by  a number of bird species and small mammals.
Passage to the Mountains of Dragons
The Drakensberg escarpment which is over 1,000 km long,  forms a border between the province of KwaZulu-Natal and Lesotho. The early Dutch settlers have named it "Mountains of Dragons", either due to its pointy tops reminiscent of the mythical creature's back, local myths of dragons roaming these mountains, or the findings of dinosaur fossils. It features high treeless peaks, grassy lower slopes and numerous streams and rivers, including the Orange River which is South Africa's longest. The flora consists primarily of tussock grass and small shrubs, and a rich plant life includes a number of endangered and endemic species. Rarely found in Africa, conifers cover the mountain's lower slopes.
Among many birds which call the Drakensberg home, mountain pipit is endemic to its high peaks. Its neighbours include mammals such as a social klipspringer, barking eland  and shy mountain reedbuck. A real treat awaits on the lower slopes which support the rare southern white rhinoceros, which got its name thanks to its wide mouth rather than the colour. The black wildebeest, beautiful animal with bushy mane and white, horse-like tail, was almost exterminated in the 19th century and can now only be seen in nature reserves.

With so many natural beauties and an amazing cultural diversity, it's no wonder Durban found its place among the New 7 Wonders Cities. Surely it deserves making it to our list, as well as to the itinerary of each visitor looking to experience our beautiful country.