The Heritage of Zululand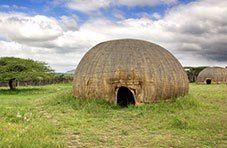 Three centuries ago the Zulu were a major clan in today's Northern KwaZulu-Natal. The area which was initially occupied by numerous Nguni communities and clans, was in 1818 united under the rule of Shaka, the Zulu King.
Today Zululand is home to the Zulu monarchy, the majority population of the province being Zulu. Their religion is a fascinating mixture of traditional beliefs and Christianity, with ancestral spirits playing an important role and manifesting themselves in the form of dreams and illnesses. Should an angry spirit send back luck or illness, help of diviners (sangoma) and herbalists (inyanga) is sought out. Sangoma will invoke ancestors and inyanga prepare an herb mixture which needs to be consumed in order to appease the ancestors.
The Zulu love singing and dancing and these are inevitably part of ceremonies linked to births, weddings and funerals. Story-telling and praise poems are an important part of the Zulu culture, promoting kings and high achievers. Did you know that drinking and eating from the same plate, in this culture is a sign of friendship?

Zululand offers us a unique opportunity to experience the Zulu way of life by visiting Shakaland or Dumazulu. We get to participate in daily village chores, visit the local sangoma, pop into pubs and traditional medicine shops, taste the traditional food and take part in an authentic Zulu wedding. One can also pay a visit to King Shaka's birthplace in the Valley of the Kings or take a stroll through Vryheid, the site of historical clashes between Zulu, farmers and Brits, situated on the Battlefields Route.
Zululand's Natural Wonders
Numerous game reserves showcase the region's rich natural biodiversity. The Dlinza Nature Reserve is home to one of the most beautiful Zululand forests which has historically provided a burial site for the Zulu dead. Nowadays, it's a bird watchers' paradise, home to Spotted Thrush and Delegorgues Pigeon. Chorus of forest birds celebrates the start of a new day in early mornings, secretive blue duiker can be heard scampering on the forest floor, and seventy species of butterflies offer a stunning display of colours, especially during autumn months. As you walk past various trees, displayed plaques will tell you about their medicinal use by the Zulu.
Greater St Lucia Wetland Park is South Africa's third largest park and its first Natural World Heritage Site. This remarkable place consists of number of different habitats including coral reefs and beaches, coastal forests and dry woodland areas. Area is home to the largest hippopotamus population and about 1,000 crocodiles, and the biggest mammals you'll meet are the humpback whale and the African Elephant. More than 500 different bird species either reside there or pass through each year.
Umlalazi Nature Reserve, part of Siyaya Coastal Park, provides shelter to one of South Africa's rarest birds of prey, the Palmnut Vulture. The magnificent Mangrove forest comes alive during the mating season of fiddler crabs, seeing them waving their enlarged claws to attract females.
Amatikulu Nature Reserve provides a wonderful combination of beach and water estuaries, lowland forests and unspoilt grassland. The area is known for a diverse bird life, housing the Croaking Cisticola and Rufous Naped Lark, but you can also witness animals such as giraffe, waterbuck, antelope and zebra feeding on forested dunes which overlook the sea.
The Hluhluwe-Imfolozi Park is a well-known game park and conservancy, the oldest one in Africa and home to Africa's Big Five. Once a royal hunting ground for the Zulu kingdom, the area was established as a park in 1895. Today it boasts the largest population of white rhino in the world, sees the intelligent giants gently entwining their trunks as part of the mating ritual, and beautiful and dramatic leopard moving low through the grass to stalk and surprise its prey.  Lions can be witnessed nestling in the trees, and fearsome buffalos lying under them to keep cool. The Park is also home to Nile crocodile, cheetah, jackal, baboons, spotted hyena and numerous other wildlife creatures, including 340 bird species.
This unique combination of habitats, diverse animal life and the authentic Zulu experience is what makes Zululand one of the most fascinating places in South Africa. It well deserved us paying it a virtual visit, as it does a spot on a must-see list for any of you travelling across this wonderful country.