Eastern Cape Coastline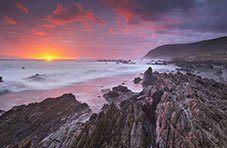 Dubbed "South Africa's wild province", the Eastern Cape was once Nelson Mandela's home. A cluster of villages known as Qunu is where the former president was born and has spent his early childhood years. Rich cultural heritage of the Eastern Cape is the result of this being one of the first areas to be settled by Portuguese in 15th century and by the British in 19th century. It has witnessed many wars between the local Xhosa's and Khoisan, and the British, Dutch and Germans.
Eastern Cape's extremely diverse landscape ranges from a semi-desert natural region of Karoo on the west, to lush Wild Coast forests, fertile Langkloof Valley with its enormous fruit orchards, and mountainous Southern  Drakensberg. The latter is also where you'll find South Africa's only skiing resort, Tiffindell. However, what the area is best known for is its spectacular coastline with vast expanses of untamed, sandy beaches, small rocky bays and hidden lagoons.

Enticing Natural Attractions
The Tsitsikamma National Park is a coastal reserve renowned for its indigenous forests, dramatic coastline and the Otter Trail. It stretches 80 km along the coast and offers a pristine natural landscape. Starting at the Storms River, the Otter Trail will lead you through areas of coastal bush and rocky shoreline, past numerous waterfalls, streams and rivers. The Park protects wondrous inter-tidal life, reef and deep-sea fish, letting you enjoy the sight of playful dolphins surfing on heavy sea waves and the Southern Right Whale coming inshore to breed.
The Addo Elephant National Park provides sanctuary to hundreds of elephants, 400 Cape buffalos and two dozen of Kenyan black rhinos.  Situated close to Port Elizabeth, it features the largest remaining population of the dung beetle and varied flora with several species of rare and endemic plants. In springtime, the air will be scented by lush citrus trees, and their branches filled with fruits during the whole of the winter.
Dwesa nature reserve provides a unique combination of lush coastal forest interlined with numerous trails, open grassland and a diverse coastline. Being home to 290 bird species makes it bird-watchers' paradise. You'll hear the low hooting of Narina Togon males as this beautiful green and red bird attempts to defend its territory or attract mates. The noisy Mangrove Kingfisher will provide a treat as you watch it fish for fish, crabs, shrimp and other aquatic animals, with the help of its specially adapted bill. Sardine Run which takes place during the winter months offers a spectacular view of sardines migrating up the east coast, closely followed by predators the likes of sharks and birds.

Known for its indigenous forests, waterfalls and trout-fishing, Hogsback impresses us with large gardens displaying exotic plants from all corners of the Earth. Did you know that Hogsback's Amatola Forest is claimed to have been Tolkien's  inspiration for The Lord of the Rings? Once you experience this magical place for yourself, you won't find it difficult to believe fairies, trolls and elves lurk about in its woods.
The Unspoilt Sandy Beaches
The Eastern Cape boasts 800 km long picturesque coastline with wild, pristine beaches which offer quite a unique experience.  The famous Jeffreys Bay beach is considered to be one of the top 5 surfing destinations in the world. Its untouched beaches are hit by fantastic waves, which is why Jeffreys Bay is a host to the annual World Surf League during the month of July.
The city of Port Elizabeth boasts 40 km of beautiful, calm beaches, which offer safe and sheltered swimming as well as surfing opportunities provided by great waves. If you're after a bit wilder experience,  Maitlands, Seaview, Sardinia Bay and Virgin Bay will meet you with virtually untouched beaches visited by the Southern Right Whales and Bottlenose dolphins. The latter will come close to the shore and you'll potentially get an opportunity to swim with these lovely, playful creatures.
Displaying a wealth of natural resources and boasting rich cultural heritage, the wild and beautiful Eastern Cape Coastline is a real gem in South Africa's crown. Being the only province to include all seven of its biomes or ecological zones, it allows you to experience a diversity of climates, landscapes and wildlife. And it's very likely you'll get to do it in beautiful weather, as in the Eastern Cape more than 300 days a year are sunny.