Magaliesburg and Magaliesberg Mountains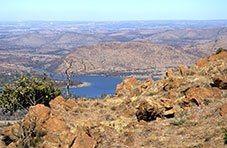 South Africa takes us next to Magaliesburg, an enchanting small town situated in Gauteng bellow Witwatersrand mountain range. It takes only an hour drive west from the busy Johannesburg or Pretoria to discover this lovely place sitting at the heart of a beautiful region. Aiming to build a sustainable relationship between people and the environment, Magaliesberg has been declared a World Biosphere Reserve which focuses on safeguarding the natural ecosystem.
Home to a Diverse Animal and Plant Life
The ancient Magaliesberg Mountain Range stretches across Gauteng and the North West provinces. Extending 120 km from the Bronkhorstspruit Dam in the east to Rustenburg in the west, it displays diverse habitats such as grasslands and bushveld savannah, as well as steep and difficult to access forested  ravines, or kloofs. They are home to hundreds of tree species and an amazing variety of flowers, ferns, grass and fungi.
Even though numerous mammal species have been exterminated over time, many more still roam the Magaliesberg range. The grey rhebok and mountain reedbuck are two of the antelopes which inhabit its slopes these days, joined by Kudu and Warthogs. If you're lucky, you might spot the male Kudu trying to appear bigger by making his hair stand on end and locking its horns with a rival, in a competition to win the girl. The powerful diggers, Warthogs might grace you with an interesting sight as they bend their front feet backwards and move around on the wrists whilst feeding. Chacma baboon will retreat to cliffs at night, its agility on rocks ensuring safety when threatened by predators.

The indigenous woodland is home to a variety of birds, with more than 400 species having been recorded in the area. The ostrich, a large flightless bird native to Africa, can run as fast as 70 km/h and lays the largest eggs of any bird living today. Should you happen to visit the area during summer, you'll get to witness flocks of migratory storks circling thermals above the mountains. A shrill kluu-kluu-kluu call will announce the African hawk eagle which is known to build massive nests about 1 meter in diameter. The Cape Vulture is an important representative of cliff-nesting species, laying only one egg per year and able to fly thousands of kilometres in search for food.
Enjoy the Unforgettable Views and Explore
The deep gullies and crystal-clear waterfalls of Magaliesberg mountains create perfect conditions for climbers and hikers. You can choose to relax and enjoy the unforgettable views, or actively engage to explore the kloofs, cliffs and crevices of this 2 billion years old mountain range.

Nestled on its slopes you'll find Intaba Thulile or "Peaceful Mountain" game farm. Imposing amber cliffs guard the abundant birdlife and a variety of plants. Aloes, gladiola, daisies, morning glory, cats whiskers, star lily and many other provide a wonderful display of colours. The reserve is also home to warthogs, jackals, bucks ostriches and a pair of graceful giraffes.
Kgaswane Mountain Reserve is situated on the northern slopes of the Magaliesberg, above the town of Rustenburg. It's home to more than 800 antelopes, and an occasional caracal, leopard, black-backed jackal and aardwolf may also cross your way. The latter is member of the same family as the hyena, and unlike many of its relatives, does not hunt for large animals. Instead it uses its sticky tongue to catch insects and is able to devour as many as 250,000 termites during a single night.
The Elephant Sanctuary Hartbeespoort Dam offers a hands-on educational elephant interaction, allowing you to walk trunk-in-hand with these lovely giants, see the stables where they sleep, brush them down, feed them and even ride.
Sterkfontein Caves provide a unique opportunity to visit the Cradle of Humankind where scientists have discovered hominid and animal fossils dating back 4 million years and more. This is where Mrs Ples was found, a 2-million-year-old  Australopithecus skull, as well as an Australopithecus skeleton more than 3 million years old.
Magaliesberg is also home to the oldest mine in Gauteng, in which gold was discovered more than 100 years ago. The Blaauwbank Historic Mine will allow you to gain insight into early gold mining, as it was done at the end of 19th century. Taking a tour of the old mine, you'll get to see the original equipment miners have used in those days, such as mine carts, picks, shovels, pit props and rope winches. You'll even be able to crush your own rocks and do some gold panning.
Clearly, there are many different ways to experience the beauties of Magaliesberg. Whichever you choose, get ready to be amazed by the exceptional show the nature puts on for you every single day.