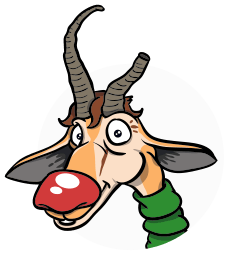 Springolph Reads Christmas Stories
There is no Christmas without Springolph at Springbok Casino. 
Also this year, Springolph is back for Christmas. And this year he brought us something very special. He brought us his favourite collection of Xmas Stories.
Some of this beautiful stories me might already know. And some of them we will hear the first time. But all of them are magical. And everybody loves to hear beautiful Christmas Stories.
Enjoy 10 Wonderful Christmas stories brought to you from Springolph the red nosed Springbok.
The Littlest Elf
As Santa's little helpers, elves have an important role in the festivities. The Littlest Elf is a story of Oliver, the littlest elf in the North Pole. However, Oliver's heart is big and his desire to discover his very special job in Santa's workshop even bigger. The pages of this story are filled with Christmas cheer, as you follow Oliver on his adventures and feel for him when he gets lost in the toy shop, makes a mess at the book shop and falls in the mixing machine at the bakery. Poor littlest elf! But there's no reason to feel blue, because the littlest reindeer will remind him what Christmas is all about – making everyone around you smile. With Santa's blessings Oliver becomes one of his most important helpers, along with Dot, the littlest reindeer.
The Littlest Elf was written by Brandi Dougherty and illustrated by Kirsten Richards, the New York Times bestselling duo. You can enjoy the story on YouTube here.
How the Grinch Stole Christmas
Growing up, many people say How the Grinch Stole Christmas is their absolute favourite holiday story. Written by Theodor Seuss Geiselt he famous Dr. Seuss, American children's author, cartoonist, illustrator and poet in 1957, How the Grinch Stole Christmas was adapted into a 1966 animated TV film and has maintained its popularity to this day. This classic Seussian tale revolves around a disgruntled creature called Grinch with a heart "two sizes too small". He is anti-Christmas and wants to put an end to it by stealing Christmas-themed items from the homes of the nearby town Whoville on Christmas Eve.
The grumpy, solitary cave-dweller is the complete opposite of merry and warm-hearted Whos living in the town of Whoville. While spending his solitary days on snowy Mount Crumpit, joined only by his loyal dog, whom he also despises, Grinch hears the noisy Christmas festivities taking place in Whoville. Irritated by all the fanfare, he disguises himself in Santa Claus and starts visiting the houses in the town, but instead of leaving presents he steals. At the dawn of Christmas day, Grinch is surprised by the reaction of the townsfolk. Instead of lamenting the loss of their stuff, they were singing a joyous Xmas song. Suddenly, Grinch realised that Christmas is not all about presents, feasting, ribbons, bags and decorations. After witnessing such happiness and bliss, Grinch's heart grew three sizes. He joins the festivities and becomes part of Christmas in Whoville. "Christmas Day will always be/Just as long as we have we." Isn't that wonderful?
A Christmas Carol
Okay, so this one may take several evenings to read, but believe us – it is worth it. Written by Charles Dickens in 1843, the novella A Christmas Carol recounts the story of Ebenezer Scrooge, an elderly man who lives a pretty miserable life and does not behave very kindly towards others. After being visited by the spirits of Christmas Past, Present and Yet to Come, Scrooge becomes transformed into a gentler man full of compassion and enchanted by Christmas. The book is divided into five chapters, which Dickens titled "staves".
As a piece of fiction, A Christmas Carol is the most rewarding read. It was the most successful book of the 1843 holiday season and continues to fascinate new generations of Christmas enthusiasts every year. The story of Ebenezer Scrooge is a story of redemption, of faith and kindness. The character goes through a major transformation from someone who doesn't want to spend any money on heating coals for a fire and leaves his clerk, Bob Cratchit, shivering in the anteroom to someone who sends a giant Christmas turkey to the Cratchit house and welcomes the opportunity to share the Christmas spirit with everyone around him with giggles and generosity. A few chilling moments in this story are well worth it as you go near the end and feel all the warmth described in the final chapters.
Listen to A Christmas Carol here.  
The Night Before Christmas
More of a poem than a story, The Night Before Christmas is a great choice when you want something shorter yet just as fulfilling and overflowing with Xmas cheer. Allegedly, the timeless poem was written around Christmas time in 1822 by Clement Moore who was asked by his daughter to write "something special" for Christmas. The poem is also known as "A Visit from St. Nicholas" or "'Twas the Night Before Christmas", it describes Santa's visit through the chimney, and it wasn't even supposed to be published.
Moore describes St. Nicholas as a pot-bellied, chubby old man and that's how we all see him today in our minds, whether we are young or old, and how he is presented in books, movies, cartoons. It is quite possible that Moore single-handedly defined our now timeless image of Santa Claus, without thinking much about it. Who can imagine Santa without cheeks "like roses," his nose "like a cherry, his chin is "as white as the snow"? What was meant as an intimate family-intended narration became a child's favourite decades in the future and for that you can't miss it!  
Listen to it here.
The Nutcracker
Another beloved holiday story is The Nutcracker. The story has a long history and derives from multiple sources, from E. T. A. Hoffmann's original 1816 German story "Nussknacker und Mausekönig" ("Nutcracker and Mouse King") and the French adaptation "L'Histoire d'une casse-noisette" ("The Tale of a Nutcracker") by Alexandre Dumas to the Russian two-act ballet by Tchaikovsky.
The Nutcracker is a story of a young girl's journey to a magical land on Christmas Eve where she becomes attached to a broken, ugly toy which by the end of it gets turned into a handsome prince. It has toys and compelling characters, evil mice, magic and the triumph of good – all the elements of a perfect, children-friendly holiday story.
Click here to hear a warm-hearted version of The Nutcracker.
The Polar Express
Written by Chris Van Allsburg, The Polar Express is a classic Christmas picture book for all ages. In it, the main protagonist is a little boy who goes on a magical train ride to Santa's workshop at the North Pole. It is narrated by an old man who shares his memories of the magical Christmas experience he had as a boy and how this experience affected him.
On one Christmas Eve, he was lying in bed when he heard Santa's sleigh. He then goes on a train ride with many other children in pyjamas who believe in Santa's existence and his power to do wonders. The magic of believing is what makes this all possible. During the ride, they enjoy hot cocoa, candy and singing Christmas carols. Greeted by hundreds of elves at Santa's workshop, the children get out of the train and are joined by Father Christmas himself. The boy gets picked from the crowd to receive the first gift of Christmas. When asked what he would like, he asks for one silver bell from Santa's sleigh. After he came back home, only he and his sister could hear the bell ringing, but not his parents – in his final statement, the protagonist concludes that over the years his sister stopped hearing it, but that he still does because he still believes in the magic of Christmas.
The Polar Express audio read is available on YouTube.
Rudolph the Red-Nosed Reindeer
Rudolph the Red-Nosed Reindeer is the product of the imagination of Robert Lewis May. The story goes like this: Rudolph is a youthful reindeer buck in Santa's service, like other reindeer, pulling the sleigh on Christmas Eve. Rudolph is unique because he has small antlers and an unusual luminous red nose.
Sadly, he is often mocked by his peers for this. One Christmas Eve, when the weather was bad and there was almost no visibility, Santa was afraid he would have to cancel his annual presents giveaway. Luckily, Rudolph came to the rescue! His luminous red nose helped Santa ride the storm out and deliver presents. Afterwards, other reindeer accepted Rudolph as a hero with a pure heart, in the spirit of Christmas.
Listen to Rudolph the Red-Nosed Reindeer here.        
The Fir Tree
The Fir Tree was first published in 1844 and it is a fairy tale written by the famous poet and author Hans Christian Andersen. It follows the life cycle of a fir tree which lives in a forest where it's warm and there's fresh air. However, the little fir tree is unhappy and wants to be tall and all grownup. As the fir tree grows each year it learns more about where trees go when they are cut down. Some become parts of ships and sail the world, which is something our little fir tree would like to do, as well. At Christmastime, a lot of the trees get cut down – yet, this happens so that they would be given ''honour and glory'' and placed inside warm rooms and surrounded by honey cakes, gilded apples, toys and all sorts of other beautiful things, or so it was explained to the fir tree.
It becomes one of the chosen trees soon and gets taken to a house for Christmas where it is decorated, shares time with the family and listens to stories. However, at the end of the festivities, the fir tree is taken up to the attic, where it feels sad. Before the moment comes or it to be cut and used as firewood, the fir tree is taken into the yard for one last time.
The Fir Tree is a very educational and emotional story which celebrates Christmas in a new way, and you can listen to it here.
The Elves and the Shoemaker
Let's keep it short and sweet at the end, so we give you - The Elves and the Shoemaker! It is a wonderful fairy tale by the Brothers Grimm, many times retold. The very beginning of the story is captivating: "A shoemaker, by no fault of his own, had become so poor that at last he had nothing left but leather for one pair of shoes." Because he was hardworking, but simply out of luck, three young helpful elves decided to provide much-needed help to this poverty-stricken man. While he was asleep, the elves made another pair of shoes and so the shoemaker had one pair to give to a person in need and one to sell, acquiring satisfied customers and paying it forward. The gift of Christmas can be life-changing!
Listen to The Elves and the Shoemaker here and have a memorable holiday season!