Mobile vs Desktop: What is the Player's Preferred Choice?
Details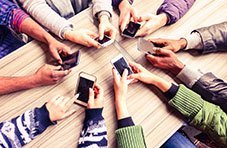 Do you remember the old days when the only way to play an online casino game was by using your desktop? Once you were out of your home, this entertaining and rewarding experience was no longer available, and your favourite slot, Blackjack or Poker game had to wait until you were once again seated and facing your computer.
Fortunately, this is no longer the case. Thanks to the development of the technology and game providers eager to exploit new opportunities, mobile gaming has not only become possible but is nowadays the preferred way to access online games. 
The Rising Popularity of Mobile Gaming
As you well know, at Springbok we make our games available instantly online, via our safe and user-friendly downloadable software, as well as on a range of mobile devices. Curious to see which of these options you use the most, we had a look at the statistics of how people play. Interestingly enough, 17.3% of you have opted for instant play, 19.9% for download, and as many as 62.8% played the games on a smartphone or a tablet. The popularity of mobile gaming is obviously huge and it's rising; by the end of 2018, we're expecting it to reach 75%. One could speculate this was due to spending more time outdoors than we used to, having more free time when out and about, or a larger choice of leisure activities at home. What can one do, for example, when taking a long bus ride or queuing up in a bank? Our friendly little helpers are waiting ready in our pockets and bags to offer an amazing choice of gaming opportunities. Not only do they turn hours of boredom into fun, but can potentially fill our wallets with some extra cash. 
Playing Casino Games on the Go
In the early days of mobile gaming, the choice was quite limited and game performance not always ideal on smaller screens. Since then, a lot of effort has been invested into making the product as user-friendly and as attractive as when playing via desktops. This is probably also one of the reasons smartphones and tablets have become your preferred gaming device. Regardless of whether you own an iPhone, Android or Windows phone, you'll be able to access each newly released title online via the internet browser. In some cases, one can also do so with the help of a dedicated app. By the way, did you know that Android users can now take advantage of new Springbok Mobile Casino App, as well as play online? No matter which option you go for, rest assured you'll get to choose from an amazing assortment of mobile games, and play with a complete peace of mind thanks to the same security measures safeguarding your personal details and sensitive financial information.