Let's Fall in Love in February at Springbok
February is the month of love all over the world. Also in the animal kingdom tinder has become a thing! Enjoy our selection of our wild tinder profiles.
Elaine Elephant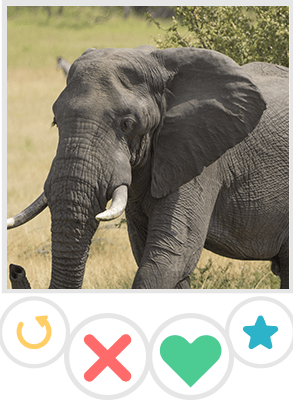 I'm looking for a guy who won't mind that I spend a lot of time with my girlfriends, as we're very close. I don't have any kids yet, but I love my sisters' and friends' babies like my own. I'm partial to a drink or two, and will walk ten miles to get one. My ideal mate should be well-built, strong enough to uproot trees and have all his own teeth … um… tusks. 
Larry Lion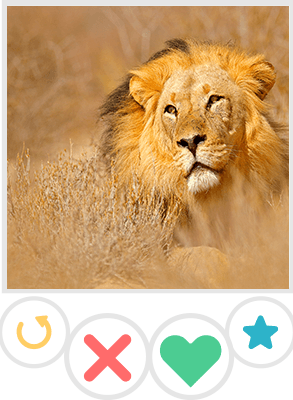 Some of my friends call me Lazy Larry, because I mostly lie around all day, but boy, when I'm hungry I'm a completely different animal! I've been told I have an impressive mane and a roar that can level termite mounds. If you dream of dating an alpha male, I'm your man! I'm looking for a lady in her prime, whose pride won't get in the way of her being swept off her paws. 
Rhona Rhino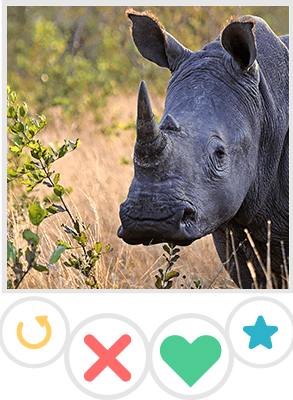 I may not win any beauty contests, but I have magnificent hair ­– well, it's actually shaped into a lovely horn. I don't have very good eyesight and if my partner doesn't either, we'll get on just fine. Although I mostly prefer my own company, I'm not above getting into an occasional crash of rhinos. If you like what you're reading, swipe right, send me a photo of your horn and let's see if we're a match. 
Marty Meerkat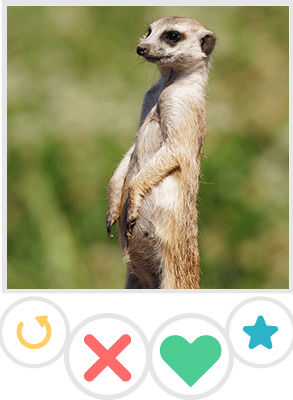 Dynamite comes in small packages they say, and you're looking at it! I'm smart, I'm sharp, I'm quick and I kill cobras. At the moment I live in an underground commune … okay, my mom and dad live there too, so basically I still live at home. But moving on, I'd love to meet an independent-minded girl who wants to move up the food chain, so to speak, and is keen to get out of the burrow and start her own thing. If that's your bag, let's hook up. 
Harriet Hippo
I love swimming and sunbathing all day. In the evening I like romantic moonlit walks through the bush, stopping to picnic along the way. If you must know I'm a plus size girl, but I'm thick-skinned, not fat! I'd like to meet someone who can share my interests in water sports and nighttime jaunts with lots of snacking along the way. I'm a strict vegetarian, so no carnivores please. 
Buffalo Bill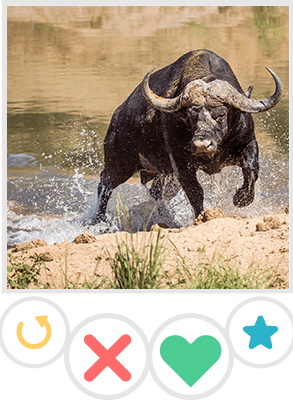 Howdy! I'm new to all this dating stuff, but anyway here goes… About me – I'm strong as an ox, pretty much the toughest guy around but I have a soft side. The birds love me – well, the oxpeckers anyway ­– and mostly I mind my own business in the bush. If you're into the strong silent type, swipe right and let's meet at a thorn tree of your choosing. 
Zelda Zebra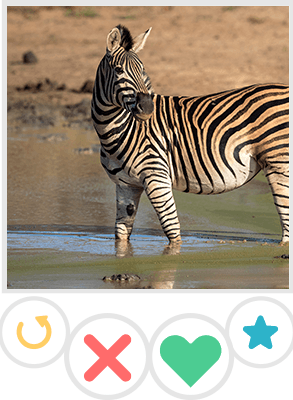 I'm told I have striking looks but I don't appreciate being called a horse in pyjamas! Of all the girls around, my stripes are totally unique and so am I. I'm frisky, love a good gallop over the plains (especially when chased by a cheetah), but otherwise you'll find me quietly grazing somewhere flicking off flies, not a care in the world. I'd love to meet a guy of a similar stripe, who also enjoys the peace of the great outdoors but can run for his life if necessary. 
Willy Great White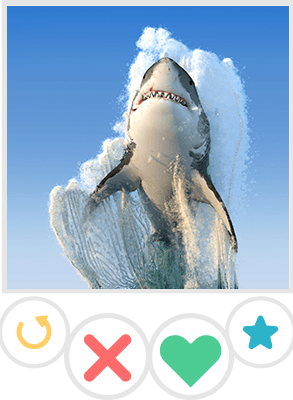 The first thing you'll notice about me is my gleaming smile. Some find it rather terrifying, well humans mostly (and seals), but deep down I'm really misunderstood – I'm just a loner trying to survive in the shark-eat-seal world. My ideal partner would be someone who can see past my reputation as a badass and relate to my vulnerable inner shark. 
Glenda Giraffe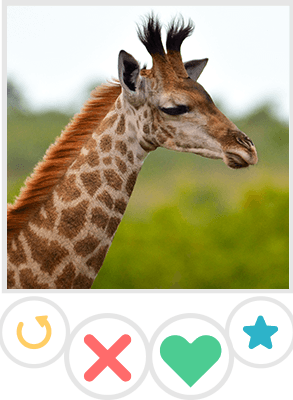 Firstly, I don't want someone who'll look up to me, rather that we can see eye-to-eye. I'm tall, elegant and love dressing in bold patterns. I stand out in a crowd so be prepared to attract attention when you're with me.  I'm also a bit of an intellectual and love browsing among the books – well trees, really, but books are made from trees so let's not quibble. If you'd like to meet up for drinks, you'll find me at my local watering hole. 
Henry Hyena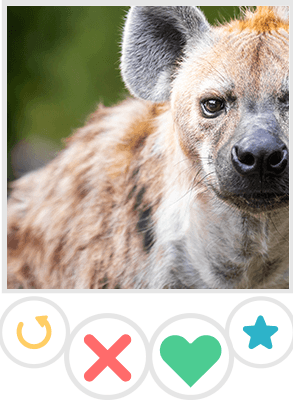 I'm a sociable guy who likes to hang out with my friends. Our favourite pastime is going on a scavenger hunt, which also serves as supper. I'm looking for a mate who isn't too fussy about going on a dinner date and scrounging leftovers from a lion. Although my table manners are atrocious, I'm a good listener and promise to laugh loudly at all your jokes.