Star Trek: Discovery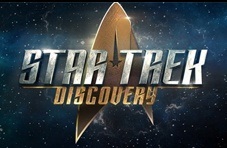 Star Trek doesn't always have to be about Kirk, Spock and the Enterprise. Check out Star Trek: Discovery to see how things were 10 years before them! The aspiring sci-fi series follows the voyages of USS Discovery and its Starfleet officers as they explore new planets and new life forms, as the Klingons are waging war against the United Federation. The young Michael Burnham (played by the charismatic Sonequa Martin-Green) is in focus during one-hour-long 15 episodes and she provides plenty of nail-biting moments as she learns to understand alien-related events and herself at the same time. Star Trek: Discovery is the 6th live-action series set in the Star Trek universe and the 7th in total.
A Much Darker Look at the Star Trek Doctrine
The American television series was created for CBS All Access by Bryan Fuller and Alex Kurtzman, it debuted on September 24th 2017 and is now available on Netflix outside US. It stars Sonequa Martin-Green as Michael Burnham, a human who was raised in accordance with Vulcan culture, now a science specialist on USS Discovery, Doug Jones (best known for his roles as Abe Sapien in Guillermo del Toro's Hellboy and Fauno/Pale Man in Pan's Labyrinth) as Saru, First Officer of the USS Discovery and Shazad Latif as Voq, a Klingon who undergoes surgery to pose as human and chief of security for the USS Discovery, Ash Tyler. Doug Jones really stands out as Lieutenant Saru. The character's sensitivity to danger is directly linked to its belonging to a species bred as prey, the Kelpiens. Much like its predecessors attuning to physics, this time the show harmonises its biology-related aspects. 
Episode after episode, viewers can witness Michael Burnham finding herself aboard the U.S.S. Discovery after being First Officer on the U.S.S. Shenzhou, the Battle at the Binary Stars, suspenseful moments during war with Klingons, Captain Gabriel Lorca being captured by the Klingons, a high priority mission to the planet Pahvo, Starfleet using unconventional tactics against the Klingons and much more.
Everything that Works in Modern Television
Fundamentally different from much of the Star Trek that's come before, Discovery showcases notable engagement with the franchise, as well as willingness to both celebrate and examine its core values. For the first time, the protagonist is not the crew's captain but an outsider, a fact which is often pointed out as the most promising innovation brought by Star Trek: Discovery.
Although some hardcore Trekkies may have their bones to pick with the latest instalment in the Star Trek universe, no one can deny that Discovery has brought the 50-year-old franchise into the present, by centring on its past (if that makes sense). The show redefines what Star Trek is for a new audience; it lacks traditional space exploration hijinks and monster-of-the-week moments, yes - but you can always rewatch the old shows for your daily does of space anomaly adventures. That being said, people who had never watched a Star Trek TV show in their lives may very well become honest fans of Star Trek: Discovery.
Season one of the latest iteration ends on a huge cliffhanger; USS Discovery has a close encounter with the U.S.S. Enterprise. The vessel which is, at this point, synonymous with the Star Trek universe, should be under the command of Captain Christopher Pike according to the series timeline. Looking back at the original series' pilot episode, fans have assumed a young science officer named Spock ought to be aboard the ship in that moment. Does this mean there will be a version of young, beloved Mr. Spock in season 2 of Discovery? Too early to tell, too early to say. The second season is expected in 2019, though.
Trekkie or not, chances are you'll be tied to your seat all through the season, as long as you appreciate striking visuals, amped up action and seeing a darker version of the future. The show also exploits modern audience's love of fan theories and twists; there are, of course, Easter eggs and fan pleasing moments but they are not at all dominant. 
Come aboard USS Discovery and see how you feel. Give the show a few episodes to warm up and if you make it to the end of the season you'll experience some Game of Thrones season 6 moments and witness Discovery earning the Star Trek prefix in its title.